…girls now monitoring mangroves using drones
By Rupa Seenaraine
Indigenous children from the Barima-Mora Passage in Region One (Barima-Waini) have been able to understand the environment in which they live better and dream about opportunities that they never thought possible, through the work of 21-year-old Sarah Singh in their communities.
Sarah, who works for the Guyana Marine Conservation Society (GMCS) as the Project Administration and Communications Officer, has been teaching the children about the importance of the region's resources, especially mangrove cover.
Having recently completed her Bachelor's Degree in Biology with a specialisation in marine biology at the University of Guyana, Singh has been deeply involved in the work to raise awareness in the villages.
The first-ever Indigenous girls' drone unit, called the Barima Mora Drone Unit, was formed in May of 2022, where four girls were trained to operate the devices. This would later enable them to monitor the mangrove and natural resources using aerial equipment, enabling updates on changes in the land and new environmental trends.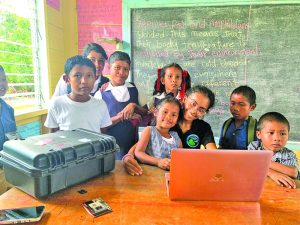 The Barima-Mora Passage spans about 50,000 hectares, and at present is Guyana's largest mangrove eco-system. There are freshwater swamps, wetlands, and savannahs with rich aquatic resources.
"We basically brought out these Indigenous girls from four of the primary communities in the Barima-Mora Passage. It is found in Region One and comprises about eight communities. It is very special not just for the people living there, but the entire country because it is the largest and most intact mangrove ecosystem," she highlighted.
With the drone unit in place, comprising girls aged 19 and 20, she noted that illegal activities could be spotted and changes could be identified sooner.
"The four girls were trained by a company to do aerial drone training and after that, we went back to the communities and we did practical drone training there. The main aim of this drone unit is for these young girls to be able to monitor their mangrove forest for illegal cutting down of mangroves and just to see what is happening and monitor how the land is changing over time," Singh highlighted.
However, the young biologist expressed that such initiatives have translated into much more for these villages. Young children are now grasping the different opportunities which are in the outside world and exploring unconventional career aspirations.
"The communities are also excited because this is the first time this is being done, especially with the young girls who have limited opportunities in these villages. The girls have been very grateful, because they have never been exposed to such things before. It's creating opportunities for them that they haven't dreamt of."
Recognising that the schoolchildren are visual learners, Singh has been ensuring that their imaginations are well-fed during her awareness exercises.
She expressed, "The community gets super excited when we're doing practical [work] and what their communities look like from above. It is a heart-warming experience to see their faces light up…That motivated me to keep going back and doing more for them. It makes my job the happiest and easiest."
Reflecting on improvements for these children, Singh shared that enhanced education access would play a significant role in their lives.
"I would wish if the kids were exposed to proper education. The education level is not as it is in Georgetown, especially the literacy level and the resources are limited. The kids learn better with videos and fun learning materials as well."