A recent meeting between sweeper/cleaners attached to schools in Region 10 (Upper Demerara-Upper Berbice) and the Guyana Public Service Union (GPSU) Region 10 Representative, Maurice Butters, has uncovered numerous complaints of issues affecting these workers, employed by the Region 10 Administration.
Among the issues highlighted by the group of female cleaners, drawn mainly from various primary and secondary schools in Linden, was the shortage or insufficiency of cleaning agents, including bleach, soap powder and Jeyes Fluid, given them.
During discussion with the GPSU representative, who was also made aware of numerous other issues, the cleaners complained that, given the situation, their requests for additional supplies in times of need are often not granted by head teachers.
Some indicated that the supply of cleaning agents they receive comprise half a sachet of soap powder, half-gallon bleach, and a large bottle of Fabuloso; and these are expected to last for up to three months.
Others noted that similarly meagre supplies sometimes would have to be divided between numerous cleaners. "Sometimes we get one bag (sachet) of soap powder for three persons. Sometimes the half-gallon bleach got to divide half and half between some of us. When it finish, sometimes the school (still) stink, and everybody coming and complain," an affected cleaner pointed out.
The need for an adequate supply of Jeyes Fluid to satisfactorily clean a school was noted. "The place need a lot of Jeyes, because the children does urinate all over the place," yet another cleaner pointed out.
A cleaner from one of the secondary schools noted, "A small bottle of Marvex does got to use between seven of us"; while yet another complained bitterly about the insufficiency of cleaning agents: "I does get a half-bottle of bleach, lil soap powder and a Fabuloso. That is it!" she noted.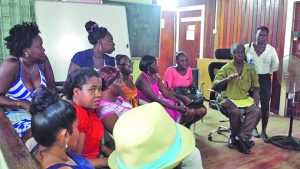 Butters noted that what was relayed to him by the Region 10 Administration was that head teachers would requisition the cleaning materials before they are uplifted and taken to the schools for distribution among the cleaners. He alluded, however, that while the supplies appear to reach the schools, adequate amounts do not appear to trickle down to the cleaners.
"It is telling me that the supply goes to the schools, but it is not going down to the cleaners for them to do their jobs," he said.
Cleaners further explained that they are often given additional tasks, such as washing curtains, walls and table cloths, without any additional payment. This, according to Butters, is in contravention of what was agreed to. "I have a document which states that the washing of linen at the schools will be paid for…but some are not honouring it," the GPSU Representative pointed out.
The cleaners also indicated that there are dysfunctional toilets at several schools in the region. Many times those toilets are "backed up", thus make the cleaning task onerous.
"When you flush, everything backing up and going on the floor," one cleaner noted. Addressing additional issues, Butters said some cleaners are even made to fetch water to complete tasks. "There are some schools (where), when there is a water problem, (cleaners) are made to fetch the water to wherever they have to do the work. And these buildings are two-storeyed," he said.