The streets of South Ruimveldt, Georgetown, remained covered by over five centimetres (two inches) of water on Thursday even as floodwaters continue to rapidly recede in other sections of the city, one day after heavy downpours.
During a visit to Prashad Nagar, Regent Street, and Cemetery Road, it was observed that water had receded even though it continued to rain on Wednesday evening into Thursday morning.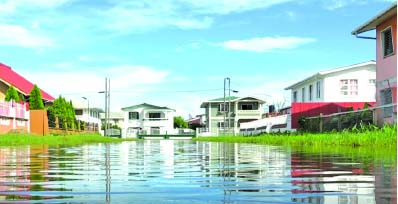 However, residents of South Ruimveldt continued to dwell in floodwaters as most of their drains and streets were submerged.
Notwithstanding, the National Weather Watch Centre is advising that the current weather pattern is forecast to last until November 8, 2020.
Over the last 24 hours, the city has experienced approximately 25 cm (five inches) of rainfall. But the drainage capacity is 5 cm of water, hence the severity of the flooding.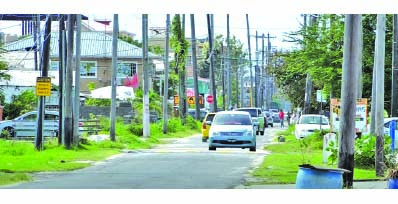 With the secondary rainy season upon us, the Health Ministry has issued an advisory for persons to stay safe, especially during the COVID-19 pandemic.
The Ministry advised persons living in flood-prone areas to stay out of the water as much as possible, to significantly reduce their chances of contracting diseases, such as skin infections, leptospirosis, diarrhoea, and other water-borne diseases.
The Ministry also urged citizens to protect themselves and family against mosquitoes by sleeping under mosquito nets. In addition, they are urged to use clean water for drinking, cooking, brushing teeth and other domestic purposes.
"Discard all foods that have been in contact with floodwaters safely by placing them in a plastic bag and deposit in a covered or closed bin," the Health Ministry added.
Persons in need of support can contact the 24-hour National Emergency Monitoring System of the Civil Defence Commission (CDC) on telephone numbers 226-1114 or 226-1617. Reports of flooding can also be made.