A 25-year-old security guard of Crane Housing Scheme, West Coast Demerara (WCD) was arrested and later remanded to prison for shooting a man at a bar in the community.
The shooting incident occurred about 02:30h on Sunday at Eclipse Bar, WCD, and has left Ricardo Poloram of De Willem, WCD, nursing injuries to the left side of his neck.
Police said the victim was at the Eclipse Bar imbibing with friends when he went outside to urinate, and upon re-entering the bar, he was confronted by Kadeem Andrews.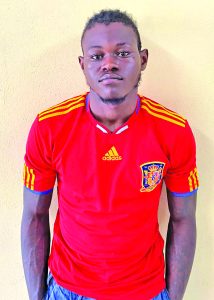 An argument ensued which resulted in an altercation during which Andrews allegedly went into a bag and pulled out a handgun before discharging a round in Poloram's direction. This caused the victim to receive injuries to his neck.
Police said Poloram fell to the ground and was picked up and taken to the Leonora Cottage Hospital.
The area was checked for spent shells, but none were found, Police said, adding that several CCTV cameras were attached to the premises and their footage was reviewed by investigators.
The firearm allegedly used by Andrews – a 9mm Taurus pistol, along with nine matching rounds, was lodged at the Leonora Police Station. Andrews was later arrested and charged.
He appeared at the Leonora Magistrate's Court on Tuesday, charged with Discharging a Loaded Firearm with Intent contrary to Section 55 (a) of the Criminal Law Offence Act, Chapter 8:01.
Presiding Magistrate Zamilla Ali-Seepaul read the charge to him, and he was not required to plead. The case will continue on June 17, 2022. (G9)