Police in A Division (Georgetown and East Bank Demerara) have arrested an East Bank Demerara (EBD) resident moments after he, along with another person, robbed a wash bay operator on Sunday.
The incident occurred around 13:20h at the business located at Lot 1 Conciliation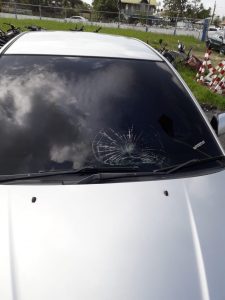 Drive, Georgetown.
According to reports, the two suspects robbed the victim of his jewellery and a sum of cash at gunpoint. After committing the act, the perpetrators attempted to escape on a motorcycle, but were pursued by the victim.
However, during the chase, one of the suspects opened fire on the victim, discharging several rounds at the vehicle. One of the bullets struck the vehicle's windshield.
Nevertheless, the armed suspect was eventually nabbed, while his accomplice made good his escape.
An unlicensed pistol, along with a spent shell, was recovered at the scene. Additionally, the motorcycle that was used to escape after the commission of the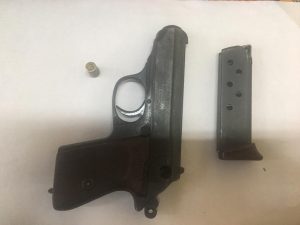 crime was impounded.
The Police said efforts were currently being made to capture the other suspect who fled the scene.
The detained suspect resides in Grove, EBD, and goes by the alias "Sharky".
The Police said that the suspect was wanted for questioning in connection with several offences, including murder.