By Jemima Holmes
From Romario Shepherd's all-round pyrotechnics to Roston Chase's 367 runs to Ravi Rampaul's 18 wickets to Andre Russell's fastest CPL half-century, or the centuries witnessed from Faf du Plessis, Chandrapaul Hemraj and Evin Lewis, the Hero Caribbean Premier League (CPL) 2021 has not been short of excitement.
The most exciting part yet, is that there is still more to come.
While we are now at the business end of the tournament, it can only be expected that the four teams who have worked assiduously enough to make it to the top four will see their next match as especially crucial, and for us, the spectators, it will translate into more riveting T20 action, that happens to unfold in the most nail-biting way possible.
After a weekend of thrills, four teams in the Hero CPL are one step closer to clinching the 2021 title. While it would be enticing to go on and on about the way these teams secured their spots, right on the top of the points table at the end of the group stage were the Trinbago Knight Riders, followed by the Guyana Amazon Warriors, then the St Kitts and Nevis Patriots, and in fourth, the St Lucia Kings.
As the CPL stipulates, first place will thrash it out with fourth place, while second and third do the same and either way, it makes for some mouth-watering cricket in the shortest format.
In routine fashion, the Captains of these teams shared their expectations for this year's CPL and as one would predict, optimism is the trend.
Guyana Amazon Warriors
For the local franchise, Captain Nicholas Pooran is elated to have made it into the top four and hopes the team find their groove.
"We're very happy and satisfied that we've qualified. To be honest, we haven't had the best of tournaments when it comes to consistency, but we're happy we can put some wins together in the last couple days," a visibly relieved Pooran shared on Monday during a media engagement.
"I do hope so. To be honest, as a team, we are generally good. Guys are putting their hands up and putting in some brilliant performances, can't ask for anything better, just hoping for that complete team performance."
Having lost twice to the Patriots this year, it may appear daunting for the Warriors, but Pooran has brushed aside this notion, highlighting that the team were still looking to find their consistency at that time.
The positive wicketkeeper-batsman commented, "To be honest, it doesn't matter if the Patriots got the better of you in the first couple games. That's okay, that's fine. As I said, we struggled to find momentum and we struggled to find consistency, but again, it's just another game. Doesn't matter if you bat first or bat second, you just have to do both properly.
"Again, it's another game, what has to be will be. We can't control what happens in the semi-finals, but again, it's just to enjoy it, have fun. We've been working hard for the last three weeks, you know, if we deserve it, we'll go out and play for it," he added.
Pooran was not too shy to admit that the team have not necessarily shone, collectively, with the bat. However, he has been grateful for those who have stuck to the plan and played hero.
"At some point in time, we are struggling with the bat and someone is putting their hand up and that's fantastic to see. But we can't control certain things, we can only sit and plan and hope to execute," a less-than-worried Pooran confessed.
In the same breath, he shared a message to his team, that went a little like this:
"Nothing different, to be honest. Just have some fun, be responsible, if it's your day, it's your day, simple as that. We can't do anything different at this point in time. You know, we take it one day at a time, one game at a time and we just need to continue doing what we've been doing, no additional pressure."
St Kitts and Nevis Patriots
On the contrasting end of the Amazon Warriors' hopes sit the St Kitts and Nevis Patriots, who were exceptional during the first half of the ninth edition of the tournament, but have since won a single match in the second half. A weakness the Warriors can exploit, maybe?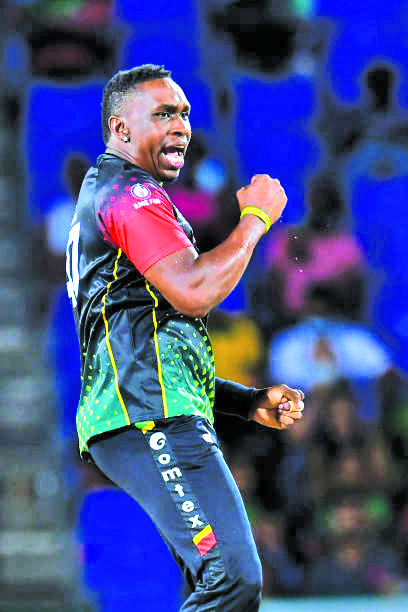 Patriots Captain Dwayne Bravo has a similar view to that of Pooran's "just a game", noting that the wins will not matter tomorrow, admitting that the Warriors have a successful history in the semis and are currently riding on momentum.
"There's nothing to give us extra confidence, I mean, this is a one-off game: this is a semi-final, it's not a league game. So, there's additional pressure, muscle memory will give us the edge because they will be aware that we beat them, but they will also know that it's a semi-final and history shows that they have more success than St Kitts playing in play-off games," the "Champion" DJ said.
He continued, "So, they are on good momentum, they won their last two games. It's a game that we can't rely on what took place in the league games. It's a fresh start and whichever team turn up best tomorrow (today) deserve to win."
The Patriots Captain also took the opportunity to clear the air on Chris Gayle's persistence in the squad.
"There's nothing I could tell the best player in the world; he talks to us. So, at the end of the day, we are not concerned about his form, it's a team sport and he's just one individual. So, we're happy to have him in the dressing room and that's more important than his form," Bravo said when questioned about Gayle's form.
"Again, our aim was to get to the play-off, from the start of the tournament, we are here now, we have a very tough game tomorrow (today) against Guyana and all of us have to come and give our best in order for us to be successful. So, we're not concerned about Chris Gayle's form, we will never be concerned about his form and I don't think anyone should be concerned."
On the team's spirit and his leadership, he added, "We just wanted to get to the play-offs, which we did. It was a great team effort, great achievement by all of us. From not making the playoff last season to being in the top four this season was good.
"In a tournament that is so jam packed, a lot of games, not much days-off or time to recover, you have to be smart with your squad, you have to have a good bench strength and I believe in all my teammates and for me as a captain, it's just to instil that kind of positive energy towards the group and give them opportunities."
Trinbago Knight Riders
The other semi-final also promises to be a blockbuster as Kieron Pollard faces off against Faf du Plessis.
The Trinidadian Captain was keen to admit that there were aspects of their game to address, but they were in good spirits.
"Being able to finish at the top of the table, in any tournament in the preliminary stage, I think it's a good achievement. Halfway through the tournament we spoke about what we needed to do to improve, 'cause at that halfway stage we were at fifth position and we just tried to continue to improve as a team, each and every time," the twin-island Captain began, when it was his turn to face the music.
"The reality of things and the nature of our job is that all that becomes irrelevant now, when we have the semi-final tomorrow [today] to play."
When probed about the aspects that the team may need to work on, Pollard answered, "For us, you know I think it's just about improving each aspect of our game. As a bowling unit we've done well throughout the entire tournament, the highest score one team would've gotten against us is that 160 St Kitts got the other night, so I think that was fantastic. Fielding, again in the night we played a couple matches in the night and dropped a couple catches."
He added, "We can definitely sort of try to improve from a batting perspective, I guess it's just the situation and the guys showing their mettle when that situation arises."
"Hopefully, we can put the pieces of the puzzle together tomorrow [today]," the Captain of the reigning champions concluded.
St Lucia Kings
On the other hand, Captain Faf du Plessis initially shared a chuckle about the St Lucians' swaying support during Sunday's game featuring the Amazon Warriors and the Jamaica Tallawahs.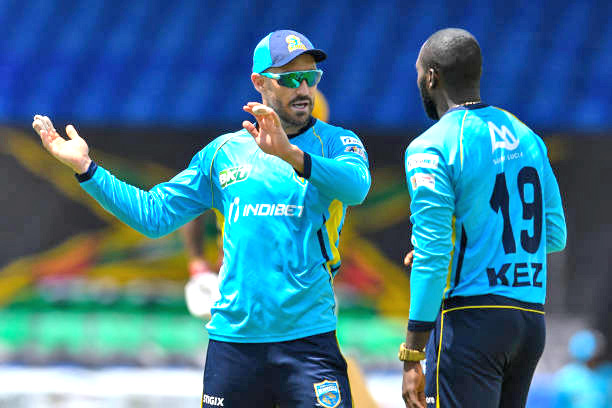 "Obviously, we were supporting the Warriors at first 'cause we know that they needed to win the game for us to go through, but then, things were looking grim there at 60-7, so we did change our support towards Jamaica 'cause we know that if they could win by a big margin, it would go the other way," he said with a laugh.
"I think on few occasions we didn't bowl as well as we would have liked. Obviously, as I said on a few occasions, there's a simple plan that if you can execute it well on the field, you can limit the damage a little bit. But in saying that, every single time a batsman got himself in, it's hard to stop them," he added, in speaking of St Lucia's personal challenges.
Du Plessis went on to stress that the Kings are not a one-man show and expressed hope that their match winners could show up collectively, for the knockout games.
"Obviously, form is a big thing, so the nice thing about us is that we've had different guys perform at different games, so, obviously young Ros (Roston Chase) has had a great competition and he's been excellent for us, deservedly got that call-up to the World Cup squad, but apart from that, it's been small contributions from different players in the team."
"I think that is our strength as a side: we don't rely on one guy or one superstar to carry us through the tournament. Every guy needs to perform his role and if we can do that as a team, we play our best cricket."
"So, if we can do that in the game tomorrow [today] and possibly in the final, then we'll be right up there at the end of the competition," the Captain of the 2020 runners-up concluded.
The Knight Riders will take on the Kings from 10:00h this morning, while the Amazon Warriors will do battle with the Patriots at 14:30h (2:30pm).