Leader of the Liberty and Justice Party, Lenox Shuman, will be the first parliamentary representative to occupy the seat awarded to the joinder list, comprising of Shuman's party, The New Movement (TNM), and A New and United Guyana (ANUG).
The three joinder parties collectively won a single seat in the 65-seat National Assembly following the March 2, 2020 General and Regional Elections, and have since informed Chief Elections Officer Keith Lowenfield, in a letter dated August 6, of their decision to have Shuman, a former Toshao, be their representative in Parliament.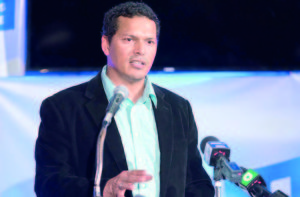 "We are pleased to inform you that the representative of the above-named Joinder Parties is Mr Lenox Shuman. His name is on the approved list of Candidates for the National Top Up List of the Liberty and Justice Party," the letter stated.
The joinder parties – ANUG, LJP and TNM — had promised to utilise their single parliamentary seat to support legislation and policies aimed at bettering the lives of the Guyanese people.
The numbers coming out of the March 2, 2020 General and Regional Elections indicated that of the trio, LJP secured the most votes with 2657, while ANUG and TMN secured 2313 and 244 respectively.
Contacted by Guyana Times on Thursday, Shuman explained that he would use his voting rights at the legislative branch in the interest of all Guyanese, but he has particularly committed to advocating for indigenous peoples' rights, since, according to him, the country's first peoples are largely unrepresented in the National Assembly.
"I know that constitutional reform is big on the agenda for us; so is the revision of the Amerindian Act and the legalisation of small amounts of cannabis for personal use and large amounts for industrial use; and for a change in the fiscal management structure in Guyana, so that it transfers into a regional structure," he explained.
"We said it time and time again: our position is the people's position; if it's good for the people, then there should be no reason why we should not support it; if it's bad for the people, then we will obviously not be in a position to support it."
Further, Shuman pointed out, "We have a constituency that is the indigenous grouping, and that is an agenda that we are going to pursue very, very aggressively to ensure that there is equity across the system."
He thus reasoned: "If you look at the historical composition of parliaments… we are grossly unrepresented."
In this regard, the LJP leader has said he would use his position to try to ensure Indigenous Peoples voices are heard.
The duration of the terms, according to the joinder agreement, stipulates that LJP would occupy the seat for two years, six months and 20 days, while ANUG would serve for two years five months, and TNM for 80 days.
The three parties had previously committed to acting as a broker between the Government and the main Opposition.