─ Allicock to receive monthly stipend from GOA
After his exploits at the Commonwealth Youth Games in the Bahamas earlier this year, where he came away with a silver medal, young Boxer Keevin Allicock has now been promised funding by the Guyana Olympic Association.
At a press conference held on Saturday morning, President of the Guyana Olympic Association (GOA), K. A. Juman-Yassin, noted that after witnessing Allicock's fights, he was impressed with his attacking style of fighting and his countenance as a mannerly young man.
"The Guyana Olympic Association will be giving Keevin Allicock $70,000 for the month of September to assist with his training, diet, equipment et cetera," Yassin declared.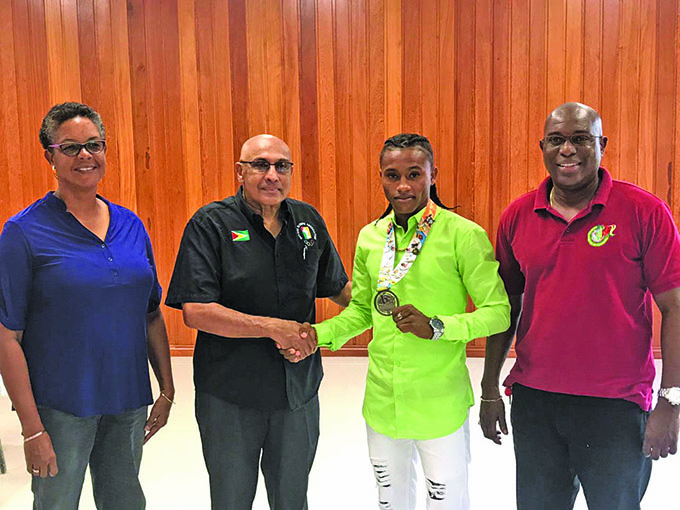 This initial funding will be very useful to Allicock, especially this month, as he prepares for participation in the South American Youth Games, to be held in Chile later this month.
The GOA President further revealed that, as of October, the GOA will be giving Allicock $40,000 monthly, and this can continue until the next Olympics in 2020, based on Allicock's commitment to the sport.
Yassin explained that the onus will be on Allicock to ensure that he dedicates himself to boxing, and not stray away from the straight and narrow path. According to Ninvalle, the GOA gesture will go a far way in allowing the young pugilist to remain focused on the sport.
Ninvalle reasoned that Allicock has created a path in which other locals can follow. "I sense, and if you look at his yearly income, he may be earning more than most local professional boxers," Ninvalle said.
Allicock also came in for high praise from Chef-de-mission to the Bahamas, Dr Karen Pilgrim, as she expressed admiration for the way the boxer carried himself, and for his behaviour.
A three-man boxing team comprising the flyweight Allicock, the 16-year-old lightweight Christopher Moore and Coach Terrence Poole will attend the games, which are scheduled from September 27th to October 8 in Santiago, Chile.