…says discussions held, local & foreign investors interested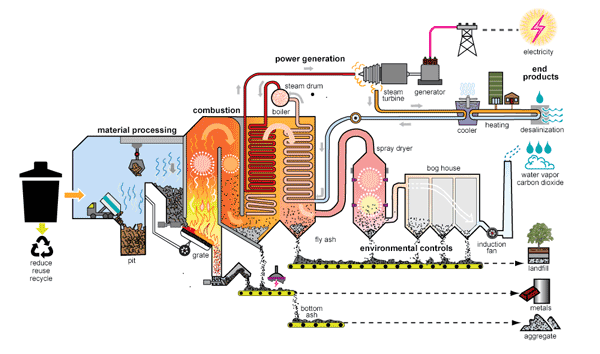 Waste to energy is just one of a series of renewable energy options that can help reduce the carbon footprint of a country and according to the Guyana Office for Investment (GO-Invest), there is significant interest from investors in such projects locally.
In an interview with this publication, GO-Invest Chief Executive Officer (CEO), Dr Peter Ramsaroop was asked about investor interest in the energy sector. According to him, this is one of the areas that registered significant investor interest.
"We've had an influx in interest for waste to energy projects. I'm working with the Ministry of Local Government and City Council to kind of moderate what could be a solution to that," Ramsaroop explained.
"Waste to energy is all the trash, basically, that persons are looking to convert to megawatts of power. So, there's a significant interest in that. There are many different types of waste," he added.
Waste to energy projects involve plants that burn solid waste and generate electricity. According to Ramsaroop, this can be considered as a form of renewable energy. He also explained that when it comes to opportunities for waste to energy, both local and foreign investors have expressed an interest.
Last year December, it was announced that a United States (US)-based company called the Hoskinson Group had held talks with the Government of Guyana and Private Sector officials when it comes to developing a waste to energy project locally.
The company had announced that it was conducting a feasibility study and would be submitting a proposal to the authorities for consideration. Among the agencies the company held discussions with are GO-Invest, the Guyana Energy Agency (GEA), the Guyana Power and Light (GPL) and the Environmental Protection Agency (EPA). A tour was also done of the Haags Bosch landfill on the East Bank of Demerara.
At present, talks about renewable energy projects in Guyana have revolved around the gas-to-shore project that would include pipelines to bring gas from the Liza field offshore Guyana. Soon after the Government issued permit licences to oil giant ExxonMobil for the Payara Development Project last year, Vice President Bharrat Jagdeo had announced that the Government would turn its attention to negotiating the gas-to-energy project.
He had pointed out that Guyana is generating at nearly 17 to 20 cents per kilowatt/hour. As such, he noted that the project could cut the cost of electricity in the country by more than half. To this end, he had announced that a team has been set up to start negotiations on the gas-to-energy project, with the Government eyeing 2023 to bring the project to fruition.
A Gas-to-Shore Project Advisory Committee headed by former National Industrial and Commercial Investments Limited (NICIL) Head, Winston Brassington was set up soon afterwards to look at various locations for the gas-to-shore location.
A number of factors, including geotechnical, geophysical and environmental were examined before Vice President Jagdeo announced recently that the Government had settled on Wales to land the pipelines for the project.
Meanwhile, Prime Minister Mark Phillips, who has responsibility for the energy sector, has previously said that the Government is looking to produce 200 megawatts of power from the gas-to-shore project by 2024.
Exxon has said that around 30 to 35 million cubic feet of natural gas would be required for the gas-to-shore project. Recently-released data from Norwegian research company Rystad Energy had indicated that less than 20 per cent of the 1.8 billion Barrels of Oil Equivalent (BOE) discovered last year was gas. (G3)