The communities of Silver Hill and Waiakabra along the Linden/Soesdyke Highway, East Bank Demerara, are now able to access potable water, following the installation of two pump systems in the areas by the Guyana Water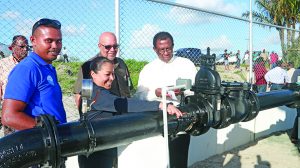 Incorporated (GWI).
Though miles apart, the two communities which have been in existence since 1972 and 1956 respectively are bursting with pride and satisfaction with the much required necessity.
Officials from GWI, along with regional and community development officers were part of the commissioning exercises of the two pump stations on Wednesday.
At the Silver Hill community, which has a population of about 200 residents, GWI Chief Executive Officer (CEO), Dr Van West-Charles said the Soesdyke/Linden Highway was considered a "no man's land, for the water company, since it was out of GWI's jurisdiction, regionally or otherwise. He said however, that the company after listening to the cries of citizens, began the process to provide water to the community.
"Once we met with the residents here, we engaged one of the contractors who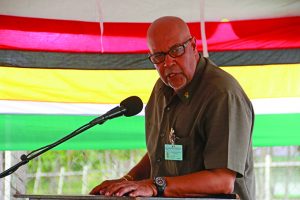 tried to achieve the goal of what we are doing here today." According to Dr Van West-Charles, GWI approached contractor Andre Webb who drilled the well free of cost, while the water company looked after the infrastructure, including the laying of the standpipes among other things.
The entire system which is being powered by solar power costs some $1.1 million. He said the company sought to have the school and health centre as the first to be provided with water.
"This is important; one of our priorities… the priority for us is to ensure that the schools have water."
He said the water company was pleased with the investment and hopes that the community will be able to care the facility, adding that GWI will monitor the growth of the population to ensure that there is adequate water supply.
According to the CEO, GWI is looking at other communities on the Highway including Adventure, Long Creek and Kairuni.
He said the issue is to explore how all the communities along the Highway as in other parts of the country, will have access to quality water.
Meanwhile, some miles down at Waiakabra, community members gathered to listen to the developmental plans the water company has for the area. Speaking at that commissioning, Dr Van West-Charles informed community members that the water supply, which would also serve the Hill Foot Community, would be available on a 24-hour basis.
He informed residents that Government has invested some $51 million to ensure that quality water is provided to the community. He spoke too of the new water quality department that will be monitoring the quality of water across the country.
Meanwhile, residents expressed great satisfaction with the supply of the water service. One woman related that she has been using water from the creek all her life. While she and her family depended also on the rain water, it would be extremely difficult during the drought seasons.