Rose Hall Town Bakewell "A" on Sunday was crowned champions of the historic Rose Hall Town Youth & Sports Club, MS, organized Edward B. Beharry and Company Limited's Say No Say Yes 5/5 Cricket Tournament. The team defeated surprised finalist No. 72 Cut and Load by 24 runs to lift the beautiful Beharry's trophy and the 0,000.00 first prize. The Area "H" Ground was transformed in a festival of colours and music as a large capacity crowd turned up to witness the highly competitive finals which was contested by eleven teams as the Crabwood Creek Cricket Club failed to turn up.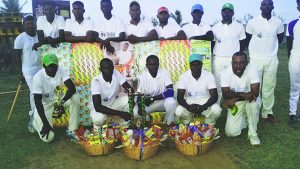 Batting first after losing the toss in the finals, Rose Hall Town Bakewell "A" rattled up 68 for 4 off their allotted five overs with National Under-17 player Kevin Sinclair top scoring with 32 while former national player Delbert Hicks supporting with 14. Bowling for Cut and Load, R. Johnson took 2 for 6 off his one over. Needing to score 69 off five overs to be crowned champions, Cut and Load were restricted to 44 for 4 and lost by 24 runs. C. Beresford offered resistance to top score with 24 against the combined tight bowling attack of Junior Sinclair, Troy Mathieson, Andre Percival, Sylus Tyndall and Ravi Narine proved too much. Tyndall bowled with express pace to claim two wickets for 4 runs off his lone over. In the lone semifinals, Rose Hall Town crushed a powerful Young and Restless Cricket team by ten wickets to reach the finals. Young and Restless cracked up an imposing 57 for 1 off four overs before Delbert Hicks (40 not out) and Kevin Sinclair (19 not out) blasted their team to 60 without loss off just 3.1 overs.
Earlier in the day during the first round of matches, No. 72 Cut and Load defeated Courtland by 8 wickets, Blairmont gained a walkover against Crabwood Creek Cricket Club, Young and Restless got the better of D'Edward by 12 runs, Rose Hall Canje easily defeated Scotsburg Cricket Club by ten wickets, Cotton Tree Die Hard crushed Fyrish by 30 runs while Rose Hall Town"A" breezed past Rose Hall Town "B" by 10 wickets. In the second rounds, Young and Restless defeated Rose Hall Canje by 9 wickets, Cut and Load created a major upset against the hard hitting Cotton Tree Team by beating them by ten wickets while Rose Hall Town Bakewell "A" cruised past Blairmont by 36 runs.
Rose Hall Town Youth & Sports Club Secretary/CEO Hilbert Foster described the Tournament as a great success and noted that the financial package was the largest ever handed out in a Second Division Tournament in Berbice. He stated that a total of forty two teams participated in the Tournament which saw Berbice being divided into four sub-zones – West Berbice, New Amsterdam/Canje, Lower Corentyne and Upper Corentyne. The top three teams from each Sub-Zone advanced to the finals and the long serving Secretary/CEO hailed the teams for the high standard of discipline, commitment and play on the field. He stated that together the Rose Hall Town Youth & Sports Club, MS, and Beharry were able to successfully promote the Say No to Alcohol, Drugs, Suicide, Crime and Say Yes to Education, Life and Sports Messages to most villages and township in Berbice. Marketing Executive of Edward B. Beharry Co. Ltd Satesh Singh stated that his Company was pleased to be associated with the Say No/Say Yes Campaign as part of its corporate responsibilities to Guyana. Beharry, he stated was fully committed to the development of youths in Guyana and pleaded with youths to avoid drugs at all cost. Police Sergeant Philbert Wilburg also addressed the large gathering of players and spectators on the negative impact of drug abuse, suicide, crime and alcohol were having on the development of Guyana.
Rose Hall Town Bakewell "A" pocketed $150,000, Cut and Load received $75,000 for the runner-up spot while Young and Restless carried home $25,000 for 3rd place. The winners of the four sub-zones – Cotton Tree Die Hard, Rose Hall Canje, Rose Hall Town Bakewell "A" and No. 72 Cut and Load each received $15,000 while Man of the Finals and Best Batsman Kevin Sinclair collected $10,000 and Beharry's hamper. Best Bowler Sylus Tyndall also received a hamper. Members of the public also won food hampers, Shivnarine Chanderpaul autograph cricket balls among numerous other prizes.