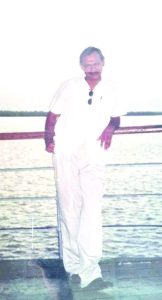 After a lengthy hiatus, matches organized by the Berbice Cricket Board (BCB) are again being played in remote Berbice riverine areas. The 'Sir' James France 40-over second-division tournament has started in that area, and Wiruni Cricket Club would shortly be contesting the finals against the Sandhills Cricket Club at the Rose Hall Community Centre Ground in East Canje.
This tournament is being sponsored by Mr. Nolan France in honour of his late father James France, an outstanding educator and head-teacher who served for many years in the riverine areas.
Among the matches played, Wiruni CC defeated Ebini CC by 59 runs in a game played at Ebini. Batting first after winning the toss, Wiruni chalked up 198 all out off 40 overs. Extras top scored with 44, while K. Fredricks, with four boundaries and two sixes, scored 28. Other contributions came from M. Sampson (23), G. McKenzie (17), K. Sinclair (20) and D. James (14). Bowling for the home team, K. Kertzious took 4 for 30, M. Leacock took 3 for 32, and T. Morris took 2 for 13.
Needing to score 199 runs from their allotted 40 overs, Ebini CC were bowled out for 139 in 34.5 overs, with D. Leacock (39), C. Late (23) and G. Late (17) being the only batsmen to reach double figures. D. Osbourne took 4 for 30, J. Sinclair took 2 for 21, and G. McKenzie took 2 for 3.
The second match played at Ebini saw the home team suffering a 21-run loss to Sandhills CC. Batting first, Sandhill reached 177 all out in 38 of their allotted 40 overs, with J. Leacock (29), D. Leacock (23) and W. McKenzie (17) being the principal scorers, while Extras contributed a healthy 38. Bowling for Ebini, Milton Leacock took 2 for 25, K. Kertzious took 2 for 23, and P. Grant took 2 for 33 as the best bowlers.
In reply, Ebini were dismissed for 156 from 33 overs. D. Leacock (45) and I. Late (47) batted well in a losing cause, but received no support from the other batsmen, with only D. DaSilva (17) reaching double figures. M. Cable took 4 for 6 and Daniel Leacock took 2 for 38 as the best bowlers for Sandhills CC.
Meanwhile, Ebini CC and Wiruni CC played each other in the first round of the Berbice River Zone of the BCB/Dave Narine West Indian Import 40-over tournament. In a match reduced to 25 overs due to rain, Wiruni reached 175 for 6, with D. Osborne's 64 (3×4 5×6), K. Fredricks's 21, C. Sinclair's 22, and J. Sinclair's 27 being the main contributions. R. Flemings, with 3 for 28, was the main wicket-taker for Ebini; while M. Leacock, D. DaSilva and K. Kertzious each took a wicket.
In reply, the home team was dismissed for 119 from 21.3 overs, with K. Morris (48), D. DaSilva (16) and R. Flemings (11) being the only batsmen to reach double figures. Bowling for the winners, J. Sinclair took 3 for 22 and D. James took 2 for 18 in their outstanding contributions.
The BCB would shortly be arranging the final match of this 'Sir' James France Tournament.