…victim's mother calls for justice
Two female students of the Linden Foundation Secondary School in Linden, Region 10 (Upper Demerara-Berbice) have been taken into Police custody in connection with the brutal stabbing of a 15-year-old colleague on Thursday afternoon.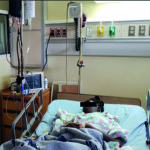 Regional Commander Hugh Winter confirmed that sisters ages 14 and 12 were arrested and are being questioned in connection to the incident.
Meanwhile, the victim of Central Amelia's Ward, Linden remains a patient at the Linden Hospital Complex (LHC). Her condition is listed as stable. A hospital official confirmed that the student, who was stabbed to her lower back with a 12 inch "Rambo" knife, underwent five hours of emergency surgery and was transported to the hospital's Intensive Care Unit (ICU) early on Friday morning.
According to the official, the student suffered extensive injuries to her muscles, tendons and several of her internal organs including her lungs, spleen, diaphragm and stomach. She is being closely monitored while in the ICU over a 24-hour period.
The stabbing occurred at about 15:00h at Third Corner, Central Amelia's Ward and was caught on camera and shared on social media.
Based on reports received, the injured student was involved in a physical altercation with another female student of the said school when she was stabbed in the lower back. The perpetrator is said to be the older sister of the student with whom the victim had the altercation.
In the video seen by this publication, the knife was left protruding from the child's back as she bled profusely. She can be seen in the video begging for help to be taken to the hospital but no one immediately assisted. In the video, persons can be seen passing by but did not render assistance. Students from the school who were cheering on when the fight started were seen running away when the teen was stabbed. She was eventually assisted after she rushed into the moving traffic.
Speaking with this publication, victim's brother said he received information on Thursday that his sister was involved in a fight with someone and was stabbed to the left side of her lower back with a knife. Meanwhile, the injured student's mother is calling for justice for her child.
"I even would like witnesses to come forth and do something, say something just to clear my mind. I am just hoping that she recover cause it is my child," the mother said on Friday. The single woman, who is self-employed, noted that this was not the first time one of her children was injured by a student of the school. The injured student's mother believes that the incident could have been avoided had someone intervened.
"This incident could have been avoided by passers-by, by students, the teachers, the guard and I don't know what happened. They leave my child lying on the road with a knife in her back and I can't take it like that I need justice," the clearly distraught mother said.
Meanwhile, Regional Commander Winter on Friday noted that the matter is under investigation.
"It is a very sensitive matter where schoolchildren were involved. We have to be very careful when it comes to giving out information. The victim is hospitalised, the two other persons who were arrested they are also juveniles," he told this publication.
Guyana Times understands that teachers of the school had previously confiscated a similar knife from a male student at the very school.
LTI chopping
In a separate incident, a male student of the Linden Technical Institute (LTI) was also chopped on Thursday afternoon by another student with a machete type weapon. This incident, which occurred in the vicinity of the Amelia's Ward Minibus Park in Linden, was also captured on camera. The alleged assailant has since been arrested and placed on station bail.
The Regional Commander said this incident is still under investigation. Commander Winter on Friday indicated that Police were in the process of creating a file to be taken for legal advice on the matter. In light of the incidents, Education Minister Nicolette Henry with support from the Psychosocial Unit visited both schools in Linden on Friday to speak with students, parents and teachers.
The Minister said that violence in schools needs to be addressed urgently.
Further, she outlined some measures that her ministry will be imploring to eradicate school bullying and violence in schools.
"We need to promote non-violence approaches to discipline and conflict resolution as well to ensure that we have those anti-bullying programmes to promote positive relationships within schools."
With the amount of school violence, the Minister has not been forthcoming with solutions to stop school violence and bullying within our schools.
In October 2019, a 15-year-old daughter was beaten and stripped of her hijab at Tagore Memorial Secondary school.
On November 8, 2019, 8-year-old Richard Boodram, a student of the Mon Repos Primary School, East Coast Demerara, was reportedly beaten by five of his classmates.
On November 14, 2019, a six-year-old boy nursed five stitches to his right hand after one of his classmates at the Mon Repos Primary School, East Coast Demerara reportedly cut him with a broken lemonade bottle.
In another incident on November 26, 2019, a video was widely circulated on social media that captured a male Richard Ishmael Secondary student beating a female student.
Following that incident, the Education Minister was heavily criticised for her position on the brutal beating after she told reporters that "students fight and there is nothing unusual as you would know, you have gone to school and we all would have seen".