"Mango Man" murder case
Nearly one month into the trial before Justice James Bovell-Drakes, a 12-member jury is expected to determine the fates of Mark Royden Williams, called "Smallie", and Sherwin Nero, called "Catty", in relation to their alleged involvement in the August 30, 2007 murder of Kumar Singh, called "Mango Man".
The defence and prosecution presented closing arguments earlier this week and the matter was adjourned to today for summation and jury deliberation. The panel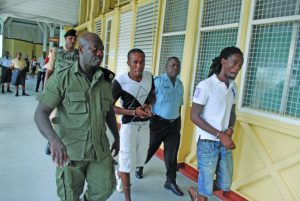 of 12 will determine whether or not the duo is innocent or guilty. "Smallie" has led his defence by implicating Inspector Suraj Singh and other ranks in torturing him into signing his caution statement. He had told the jury that upon his 2008 arrest, he was handcuffed, beaten and shocked into signing the police document.
Singh was killed after gunmen stormed his premises and allegedly made off with cash and jewellery while his relatives were visiting from Suriname.
During the testimony of Singh's wife and daughter last week, it was explained that bandits fired several shots when the family home was invaded. While the two women did not see the faces of their attackers, the jury had been told that an ex-Police rank transported the duo from Kumar Singh's Cove and John, East Coast Demerara home via horse cart which the defence views as implausible.
Prosecutor Tamika Clarke is appearing for the State while the two men on trial are being represented by Attorney Nigel Hughes.