Soca singer Rodney Le Blanc, popularly known as Benjai, was reportedly hit with a bottle to the outer part of the face following a concert at a popular night spot on Main Street, Georgetown.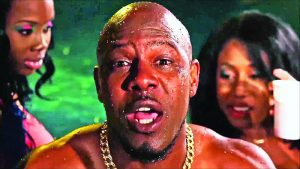 The injuries he received to his face required 25 stiches.
Reports are that the singer was sharing a photo moment with fans outside the popular night spot when an argument erupted between a member of his entourage and a patron.
This newspaper was told that a car allegedly reversed close to the singer and his associates, and a person from his entourage tapped on the trunk of the vehicle to alert the driver than he should stop the vehicle. This act allegedly enraged the driver, who exited the car with his friends and became embroiled in a confrontation with the member of Benjai's entourage.
The singer attempted to calm the situation and was hit to the head with a beer bottle by one of the men who had exited the car. He was rushed to a city medical facility, where he was treated; and he later left the country for his home in Trinidad. A report was made to the police, but it is not clear if anyone was arrested.
Investigations are, however, continuing.