…Hubu residents drowning with concerns
By Devina Samaroo
Water is life; but for the residents of Hubu Backdam, East Bank Essequibo (EBE), say the supply they are receiving from the country's main utility company is causing much health risk for them.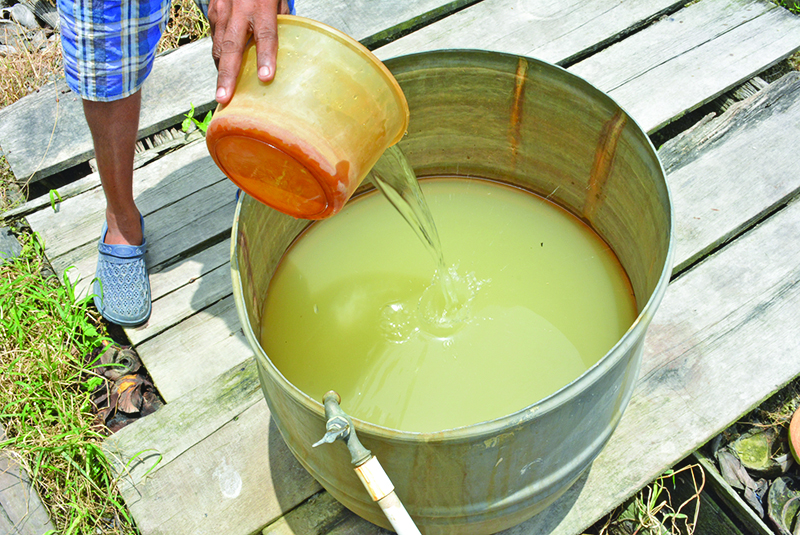 Gone are the days when the people of Hubu enjoyed potable water. Instead of progressing, their community seems to be inundating in issue after issue. When Guyana Times visited the area on Monday, residents came out in large numbers to voice their concerns, and many were already in the depths of despair while others were on the brink of 'losing their minds' over the water woes. Residents found it highly unacceptable that they were paying for foul and discoloured water, which they cannot use for cooking, washing, bathing, drinking or cleaning purposes. In fact, many calls have been made to the Guyana Water Incorporated (GWI) by residents of Region Three (Essequibo Islands-West Demerara) who, was for a considerable period of time, were forced to use water of poor quality.
In February, the water company announced that it would be installing a total of eight mobile generators with an electrical ring system at three well sites, which would see the residents, including Hubu dwellers, benefiting from an improved water supply.
Elder residents told this publication that they were once connected to the Vergenoegen Pump Station and were receiving potable water, but everything changed with the coming of a new government. Their grid was taken off the Vergenoegen Pump System and they were then connected to a small station right in Hubu. But according to the residents, the shallowness of the well linked to the station in Hubu is the likely reason for the contaminated supply they are getting.
Challenge
Komal Narine, who is considered one of the village leaders, challenged the ministers and those in authority at GWI to use the quality of water they are receiving, daring them to endure the struggles. "I dare challenge the minister or any relevant personnel to come and see for themselves. I want them to drink or use this kind of water that we are getting. Let's see if they can survive from this that they are giving people to use," he expressed as he turned on the tap in his neighbour's backyard, displaying the unclean water. Narine believes his community is grappling with a water crisis, and is imploring the relevant authorities to intervene with urgency before the situation surpasses its current unbearable stage.
Expense
For some residents, they are burdened with additional expenses, in some cases $12,000 to $20,000 per month, in order to treat the unfiltered tap water, or purchase supplementary water in order to survive. "If you have to store this water in the black vat, you have to get like 1-2 gallon bleach every other day. All your dishes and utensils, everything does get red with this water. Since this new government take over, this is the water we getting. Before, we used to get water from Vegae (Vergenoegen) and we cudda cook and clean and do all kinds of things with this water," said one of the residents, known as Aunty Marcy.
She said she normally purchases approximately six bottles of water per week in order to cook. "In addition to that, I have to pay the water bill. Every month the water bill gonna come, and if you don't pay, they gonna cut you off," she stated.
Aunty Marcy also vented about how badly the water stains anything it touches, and the extra time, money and energy it takes to remedy the problems. "Look, the other day I used the water to pressure wash my shop, and now I have to go paint back…the water stained it up," she explained.
Trench water
According to another resident, Lakeram Dankumar, he prefers to use the trench water rather than the water being supplied by GWI. "You can't bathe with this thing. This thing stink bad, bad, bad. You can't bathe them lil pickney with this thing. They skin does break out. The water stain up your concrete and the tile, it staining up your wares. You so shame fuh give people something to eat or drink, cause of how it leaving your wares," Dankumar explained exasperatedly.
His family normally relies on the rain water stored in the black tanks; however, he said, it is always worrying, as there is no other comfortable alternative when the tank runs dry. "Sometimes, to tell you the honest truth, I does prefer to use the trench water," he declared.
Residents have been battling with the poor quality of water for the longest while, hoping that it was a temporary problem; but months have gone by and no solution is forthcoming, despite GWI's recent commitment. GWI's Regional Divisional Manager, Martin Garrick, in an article published in February, conceded that the quality of water is of interest to the water company and needs to be improved urgently.
Residents are calling on GWI and the relevant authorities to expedite the improvements to the water system, so they can once again enjoy a normal quality of life, one in which potable water does not seem like a luxurious amenity only to be afforded by the rich.
It must be noted Hubu is a large farming community which supplies large amounts of cash crop to the rest of Region Three.