…Small Business Bureau offering grants to
affected businesses
The Social Protection Ministry has taken the initiative to assist the vulnerable groups within the population, as households across the country suffer economically from the coronavirus disease (COVID-19) crisis.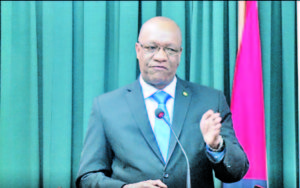 Those who will be given first priority include persons benefiting from the public assistance programme and those who have applied for assistance but are awaiting a response.
It has also been extended to individuals who lost their income after the coronavirus outbreak began and households headed by senior citizens or persons with disabilities.
Eligible applicants are to submit their completed forms online with supporting documentation.
Back in April, former Director General of the Ministry of the Presidency and current Chief Executive Officer (CEO) of the National COVID-19 Task Force (NCTF), Joseph Harmon announced that the Government halted the social relief hampers being distributed by the Civil Defence Commission (CDC), since more long-term solutions were needed.
"We took the view that this is going to be a long-term matter and, therefore, a one-time distribution would not suffice, because, in the long run, someone who receives a package in April would look forward to receiving a package in June and July and onwards. We have thought it necessary to look at this matter in a strategic way and, therefore, what we have asked is that the distribution be put on pause in the way it was going. We are going to put a system in place that identifies … the vulnerable," Harmon had said.
He revealed that the Task Force made the decision based on the current projections and timelines for COVID-19, as it would be better to undertake long-term solutions. In this regard, it was determined that current social relief efforts were among the short-term solutions and needed to be reworked.
Small businesses
Businesses across the country, both small and large, have been dealt serious losses as the COVID-19 pandemic deepens as many have chosen to close their doors or lay off employees.
Given the devastating impact, the Small Business Bureau has now made an effort to assist registered small businesses who have been economically challenged.
According to the Bureau in a notice, this initiative is meant to sustain these businesses in retaining employees and assisting with operational costs until the national situation is brought to normalcy. It is also offering training and development support to market these services through an online platform. This training is extended to diversify businesses and create 'supply partnership'.
Entrepreneurs who wish to seek assistance can contact the Small Business Relief Grants and Services via email at [email protected] or 633-7101 or 608-8495. This support will be offered based on the availability of funding and on a first-come-first-serve basis.