Law books vendetta
…as court releases him on self-bail
By Jarryl Bryan
Former Attorney General and Minister of Legal Affairs, Anil Nandlall, was on Thursday arraigned before Georgetown Magistrate Fabayo Azore on a charge instituted by members of the Special Organised Crime Unit (SOCU) which detailed that, between May 15 and May 29, 2015, while being a bailee (custodian), he had fraudulently converted to his own use and benefit 14 Commonwealth Law Reports, valued at $2.3 million — which he allegedly unlawfully retained after demitting office in 2015.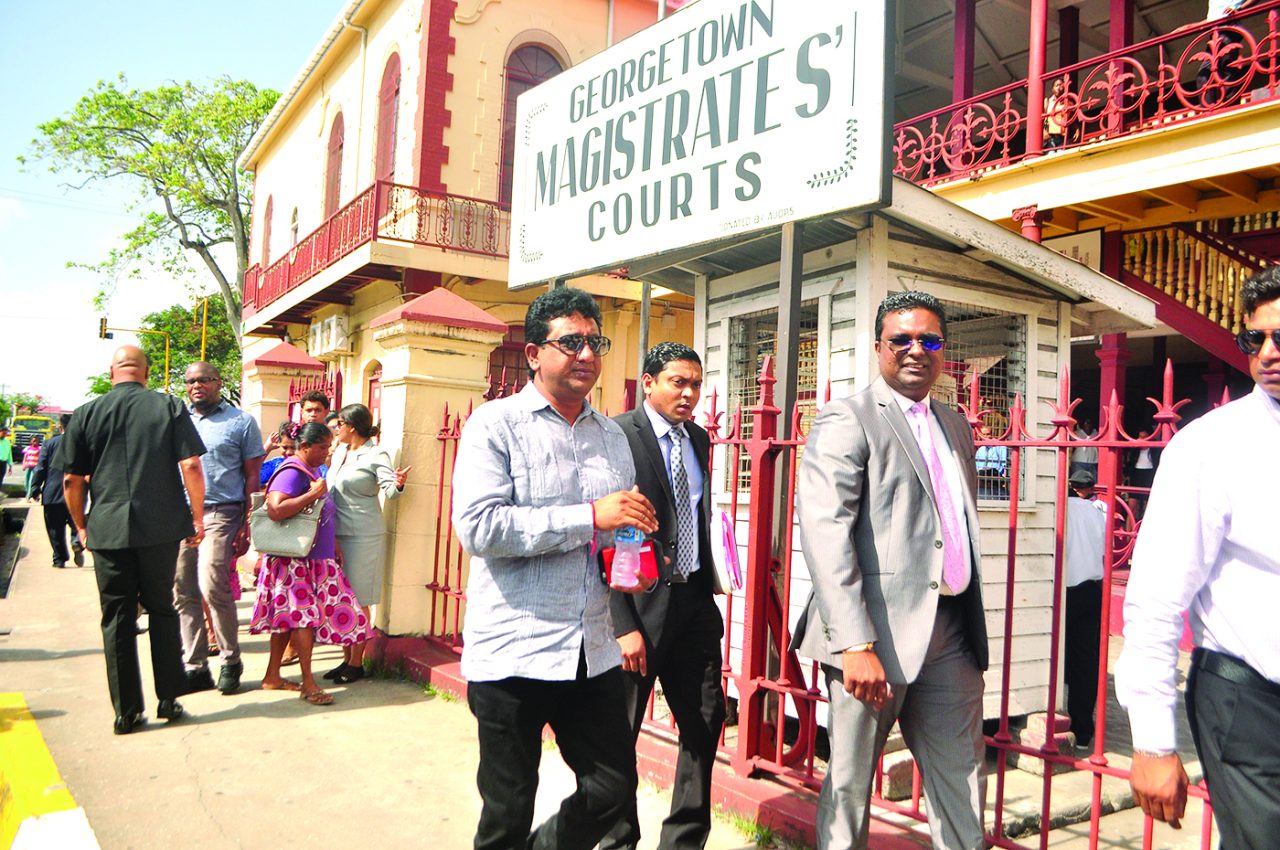 Represented by a battery of attorneys that included former Education Minister Priya Manickchand, as well as Glenn Hanoman, Sase Gunraj, Euclin Gomes and Sanjeev Datadin, Nandlall's entry into the courtroom was preceded by his eminent legal representation, and he was initially informed by the magistrate that the case file was not with her clerk. This caused some commotion as the lawyers tried to determine whether SOCU officers were attempting to manipulate the system to further detain Nandlall.
There was a terse exchange between Magistrate Azore and Attorney Hanoman, who argued that the matter should be dealt with expeditiously, as Nandlall's liberty was at stake. Magistrate Azore eventually told the defence battery of lawyers to leave the courtroom as the case file was not in her possession, prompting the team to mull filing a Habeas Corpus that would have compelled SOCU to bring Nandlall before the court to have his case heard.
Nandlall, meanwhile, was taken from the magistrate's presence, but as the case file was brought to the magistrate after a delay, he was returned to court, and the former Attorney General was not required to plead to the indictable charge.
Defence Attorney Hanoman, arguing for self-bail, said Nandlall was a former Attorney General of Guyana and, moreover, in 19 years of legal practise, had never had an incident. He also referred to Nandlall's address as his fixed place of abode.
It was also pointed out that the High Court had only days before granted Nandlall a conservatory order preventing SOCU from seizing the said law books.
State Prosecutor Patrice Henry informed the court that more statements had to be taken in relation to the matter. As such, Nandlall was released on self-bail. He is scheduled to return to court on May 9.
Arrest
Nandlall later told the media that SOCU operatives had gone for him at his law office earlier in the day, and had whisked him away to their headquarters. Shortly after members of the media had arrived at the unit's headquarters at approximately 12:00hrs, Nandlall was brought out by SOCU operatives to be taken to the Georgetown Magistrates' Courts.
Nandlall arrived at the courthouse in a heavily tinted SOCU vehicle, but remained outside the courtroom in SOCU custody. After some time had elapsed, the SOCU officers had drove away with Nandlall while his lawyers frantically tried to determine where the officers were taking him.
Vendetta
Outside the court, Nandlall told the media he was not surprised by the charge, which he stated was a long time coming, after he had begun criticising the performance of Attorney General Basil Williams.
"I don't think anyone would be surprised by the turn of events. The Attorney General promised over a year ago that, should I continue to publicly criticise him, he will make these law books an issue and I will be charged," Nandlall claimed.
"This has nothing to do with the law books. As I indicated earlier, it has a political and sinister motive. (But) the state will expend millions of tax payers' money to prosecute this charge, and it will go nowhere."
The former Attorney General expressed conviction that he was being persecuted, and he said this was one of several attempts to embarrass and silence him and to break his spirit. He insisted that the charge should not have even been filed, since he had already begun proceedings in the High Court.
"The Constitution is very clear: A magistrate ought to defer to the superiority of the High Court and the superior law of the land. Hopefully, at an appropriate stage, that application will be made and it will be dealt with," he said.
"I am happy that this is being done, so the world is witnessing how quickly we have descended (into authoritarianism). Today it is Anil Nandlall, tomorrow it can be any one of you. Your business is exposing (wrongdoing) (and) that is my business as a politician, too. And that is all that I've been doing — exposing wrongdoings."
Nandlall reiterated that part of the package he had negotiated with former President Donald Ramotar was that the state would pay his subscription for the law books with United Kingdom publisher Lexis Nexis. He insisted that Government could not produce any document to verify actually buying his law books.
Nandlall opined that his arrest and indictment was just the tip of the iceberg. According to him, it is likely that the state will bring more opposition politicians and former ministers before the courts.