Disciplined Services voting
Soldier under close arrest for attempting to vote twice
A Guyana Defence Force rank has been placed under close arrest after he reportedly attempted to vote twice on Friday at the Camp Stephenson Base, Timehri, East Bank Demerara, as the Disciplined Services voted ahead of the March 2 General and Regional Elections.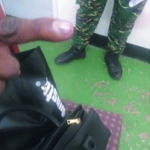 According to reports, the incident occurred around 17:05 at the Jaguar Lecture Hall polling place (Alpha split D-H).
The military officer, (name withheld) went to the polling place to vote and did not have an accepted form of picture identification.
Grenville was then asked to swear an oath or sign the statement of affirmation as to being who he is, which he refused to do.
The man subsequently left with the intention of returning. However, before leaving, the Presiding Officer told the man that it was getting late and he should sign the statement, but he left without doing so. In a statement on Saturday evening, the People's Progressive Party said that its polling agent at the location reported the unusual behaviour of the GDF staff to a warrant officer, who subsequently returned with the rank.
It was then that the polling agent (name withheld), discovered what appeared to be ballot ink on the soldier's right index finger.
The soldier alleged that it was pen ink that fell on his finger; however, after investigations, it was discovered that the man had stains on his nail and at the bottom of the finger. As such, the matter was reported to the Timehri Police Station and ranks went to investigate.
Based on a police report, the soldier is under close arrest at the Camp Stephenson Base and will be assisting Police with further investigations, the PPP said.
Meanwhile, on Friday thousands of security officials from the country cast their votes. GECOM's Public Relations Officer on Saturday evening said that GECOM will soon send out a statement on the issue. However, up to press time this was not forthcoming.