A D Field Squatting Area Sophia, Greater Georgetown businessman was last week remanded to prison for the unlawful possession of a firearm and ammunition. Forty-eight-year-old Leon Garraway called "George" appeared before Magistrate Ruschelle Liverpool at the Sparendaam Magistrates' Courts.
The defendant was charged with possession of a firearm without licence contrary to Section 16 (2) (a) of the Firearms Act and possession of ammunition without licence contrary to Section 16 (2) (a) of the Firearms Act. He pleaded not guilty to both charges. In the end, Garraway was refused bail and remanded to prison. His next court date is May 16.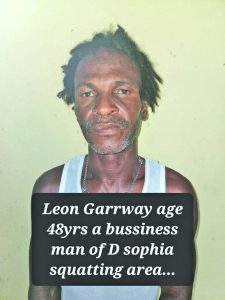 It was reported that on Monday, May 1, a party of Policemen were conducting a cordon and search exercise when they received certain information and proceeded to a house at D Field Squatting Area, Sophia.
While there, Garraway was observed walking onto the property's landing with a black and silver object in his hand. Upon seeing the Police, he threw the object onto the parapet.
The Police ranks then contacted him, and escorted him to the area where he threw the object where they found a black and silver Smith and Wesson pistol with the serial number filed off, along with five live rounds of matching ammunition.
When asked if he was the holder of a firearm licence, Garraway responded in the negative and as such was told of the offence committed.
He remained silent. As such, he was arrested and escorted to the Police station. The illegal gun and ammunition were confiscated, marked, sealed, and lodged at the Police station.