The Local Government and Regional Development Ministry and the Public Works Ministry have joined forces to undertake road and drainage works in the township of New Amsterdam, Berbice.
These works, according to Vice Chairman of Region Six Zamal Hussain, are being executed through the Regional Democratic Council (RDC).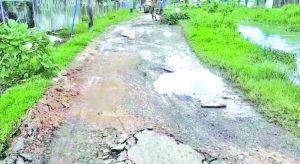 This comes at a time when several streets in the township have deteriorated to the extent that they are almost impassable for vehicular traffic.
Hussain reiterated that the massive street resurfacing work in the town is not being undertaken by the Town Council but rather through the two Ministries.
"It is Central Government through the RDC. These works include repairs the GRA Street, Church Street, St Magdalene Street, Cheddi Jagan Street, St John Street and St Ann Street."
While both the east and west of those streets are being resurfaced, LFS Burnham Street will only have the western half fixed. The eastern half, currently, can be considered one of the better streets in the town.
Work is also being done to the carriageway on New Amsterdam Technical Institute (NATI) Road which will allow persons to utilise a secondary entrance to the New Amsterdam Hospital. Those projects are being undertaken by the Public Works Ministry.
"Also, through the intervention of Mister Dharamlall, we are doing a number of drainage works and streets in New Amsterdam: Brown Street, Angoy's Avenue, Mingo Street, Ross Street, First Street Savannah Park Housing Scheme and the reconstruction of the main access road to Paul Stewart and Savannah Park Housing Schemes," Hussain listed.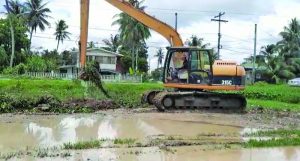 Further, he noted that repair works are also being undertaken on Seecharran and Violet Streets in Mount Sinai. Additionally, a massive drainage cleaning exercise is being executed by the Local Government Ministry.
"Because a lot of drains are blocked up for a number of years, so, we have work ongoing in the entire Glasgow Housing Scheme to the canal network; we doing Overwinning, the Savannah Park area, Forty-One Scheme – we are doing the entire area there. We are doing some work to the entire Angoy's Avenue – Patrick Dam, Levi Dam, Timmers Dam and the other. We are also doing the network in Stanleytown from 31 to 58."
This, he pointed out is apart from the main drains which were cleared by the NDIA. Only recently sections of the town were flooded following overnight continuous rainfall.
One of the hardest hit communities was Vrymens Erven, where the water did not recede as expected.
The National Drainage and Irrigation Authority (NDIA) desilted some canals stretching from Tucburg Park to Stanleytown.
"That network was excavated by the NDIA only a few months ago but the New Amsterdam municipality failed to maintain that network. That led to the flooding in Vrymens Erven, M&TC Housing Scheme and Bernine Scheme."
Hussain said during a site visit by regional officials, it was revealed that the sluice in Tucburg Park was closed a few hours before it should have been closed.
According to Hussain, it was also discovered that one sluice attendant has to attend to two different sluices.
He pointed out that the entire network is now cleared as he called on the New Amsterdam municipality to utilise the Community Infrastructure Improvement Programme (CIIP) workers to carry out maintenance to the drainage system in that section of the town to prevent a reassurance.
While being critical of the Town Council for the way it has allowed the infrastructure to deteriorate, Hussain said the RDC is open to working with the municipality and developing a good working relationship for the betterment and development of the country's oldest town. (Andrew Carmichael)