A speeding teenage motorcyclist is now dead after he was struck down by a motor car at Silver Hill, Soesdyke-Linden Highway, on Saturday.
The dead youth has been identified as 17-year-old Stanton Garraway of Kairuni Village, Soesdyke-Linden Highway.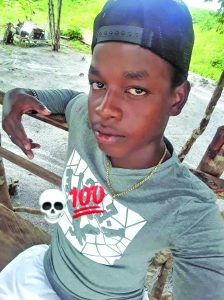 Based on reports received, the accident occurred at about 14:25h and involved Garraway, who was riding a motorcycle, CL 4409, and a taxi bearing registration number HC 5011, owned and driven by a 50-year-old man, who is also a resident of Kairuni.
Initial Police investigations revealed that the teenager was proceeding along the Soesdyke-Linden highway at a fast rate of speed and collided with the car which suddenly emerged and turned onto the Soesdyke-Linden Highway from a trail.
The young man reportedly fell onto the roadway and received injuries to his head and other parts of his body while the driver of the car received injuries to the head.
The motorcyclist was picked up from the roadway while the driver was pulled from the wreckage – both in a semi-conscious condition – and taken to the Linden Hospital Complex for treatment.
Garraway was pronounced dead on arrival while the driver of the motor car was treated and admitted as a patient suffering from head injuries.
He was later transferred to the Georgetown Public Hospital where he was further treated and admitted to the male surgical ward suffering from head injuries.
Nevertheless, on Sunday, a family member of Garraway told <<<Guyana Times>>> that while they are unaware of where the teen was heading at the time of the accident, they were told that it was the driver of the motor car who caused the accident.
"Well, what I had understood was he was riding a motorbike when [he] collided with a car. We heard that the car ride into he," they said.
The family member said it is unfortunate that the teen lost his life at such a tender age.
"He was a quiet, kind, respectful, and hardworking young boy. He was always willing to learn anything he didn't know about his work…", they said.