By Andrew Carmichael
Redundant workers of the Skeldon Sugar Estate are being charged a fee of $500 to pass through a cultivation dam to catch fish.
The fee is being imposed by the Special Purpose Unit which was set up to oversee the privatisation of the sugar estates.
The workers who were made redundant when the estate closed are now facing major difficulties as they look for new employment. Those who have decided to turn to fishing are now being charged a fee to travel through the cultivation dam to ply their trade.
They catch fish and reap wild karela from the savannahs, which is located behind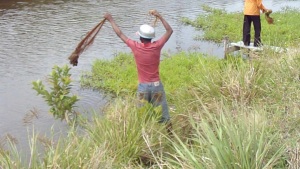 the cultivation area, but is only accessible through the Skeldon Sugar Estate's dams.
According to the former workers, the SPU is holding out that the jobless men and women will not be given access if they do not have the pass which cost $500. The SPU is also issuing one month passes at a cost of $15,000.
Already hit by hardship with the closure of the estate, many have turned to fishing to make a living while others catch fish in the savannahs to provide a meal for their families.
Manam Singh, a former cane harvester who worked with the estate for 22 years and is a father of four, told Guyana Times on Wednesday that sometimes he buys the SPU pass and catches nothing. On Wednesday, he left home at 03:00h and at 10:00h returned home empty-handed.
"$500 you have to pay plus you have to buy gas and carry thing to eat and the back dam; is more than $1500 you spending and catching nothing. I can't afford to pay $500 per trip. It very hard, I got children going to school; three of them going to high school," he told this publication.
Initially, the ex-workers were not required to pay a fee to pass through the cultivation area but then a fee of $100 was charged which subsequently raised to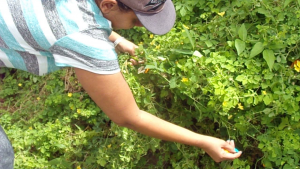 $500 for a one-time entry.
Sibnauth Ramnarine, who worked as a cane harvester from 1982 to when factory was closed, cried out that the fee is too high.
"Right now you getting nothing and to find $500 it is very hard now. You have to get gas money and you not catching $500 fish. It is very hard." He added that while it was unreasonable to have to pay $100 monthly just to pass, use the cultivation daily get to the savannahs; they were able to live and accept that fee.
Edwin Persaud, a pensioner, who has a sick wife, fishes for domestic purposes. According to him, sometimes he tries to catch enough to be able to sell a portion, but those days are seldom.
"I have no other alternative. I have house rent to pay, water bill and light bill to pay. I have a sick wife and every month I have to find money for medication. This is harassment. I use to pay $100 to go in the backdam, now they want $500. If you buy $3000 for the month and you don't get to go three or four days that that money confiscated."
Dhanraj Chatterpaul, who worked as a Pallman with the Skeldon Estate, says being asked to pay $500 per trip has created financial pressure on himself and his family.
"Some days we leave home with $1500 and rain fall and we have to turn back. You already $500 for the pass and $1000 for the gas; that is $1500 you lost. I don't know what they trying to do with us, it working out to about $15,000 every month. That is like we paying a loan. Jobs are not available now. I don't know that they want us to go and do," the angry man said.
Chatterpaul said they were told that the SPU is charging the fee, so it can have funds to pay rangers, who are employed to ensure that cows do not enter the cane fields.
"We want to know how out money have to pay cow watchman. They should look after that."
Chatterpaul also related that the security employed with the Skeldon Estate would take away their catch, quakes and cast nets and take them to the Police station.
Mahadeo Singh compares their $500 fee to go into the backdam with the $7500 road service vehicles pay to use the road for an entire year and says it in not only unfair but unjust since it is the unemployed who are being asked to pay a fee.
Apart from those who go to the savannah to fish, women are also forced to pay the same fee to pick wild karela; some for commercial purposes and others to make a meal for their families.
"Is food and you don't have to buy it, so we go and pick but if you don't get a pass, the guards taking it away from you," one woman said.
Guyana Times was also shown several receipts from the former workers indicating that they have paid the fees as demanded by SPU.
A circular from Guyana Sugar Corporation (GuySuCo) dated September 13, 2017, indicated that fees of $100 per day were going to be imposed with immediate effect as from that date.