National youth cricketer Nigel Deodat last Thursday received $100,000 worth of assistance in cricket gear through a collaborative effort between the Rose Hall Town Youth and Sports Club, MS, and businessman Sheik Mohamed of Star Sports.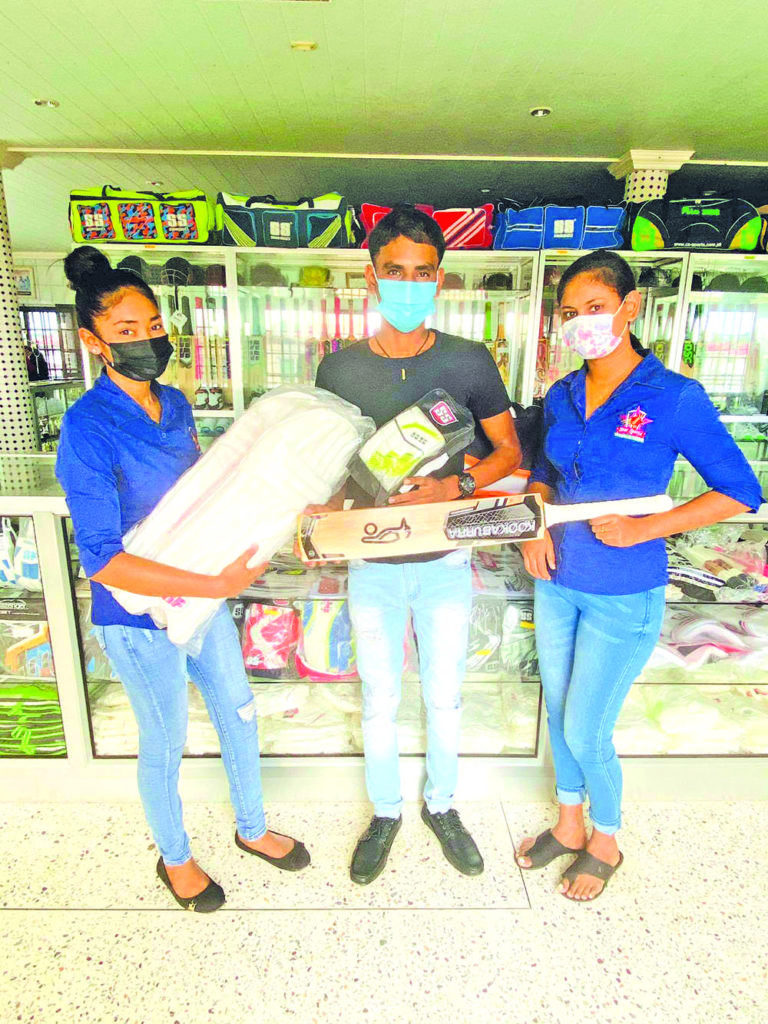 The promising all-rounder, currently representing Berbice in the Guyana Cricket Board's (GCB's) Under-19 Inter-County tournament, received a cricket bat worth $64,000, a pair of batting gloves, batting pads, and a gear bag when he visited the Star Sports Store at Enmore, ECD to receive the assistance.
As President of the Berbice Cricket Board (BCB), Foster, who is spearheading a Gears for Youth Cricketers programme in the Ancient County, met with Deodat during a meeting of under-19 players, and committed to assisting the youth to fulfill his potential. This player, who represents the Blairmont Cricket Club, lost his father 15 years ago, and credits his mother for his successes over the years.
Foster contacted former national player Sheik Mohamed, CEO of Star Sports, for a sponsorship for the talented left-handed spinner, and he readily agreed to donate the bat, gloves and pads, while the Rose Hall Town Youth and Sports Club (RHTY&SC) donated the gear bag.
Under Foster's leadership, this vibrant cricket board has ensured that more than 300 youths have benefited from donations of cricket gear under a wide range of programmes, including the Clayton Lambert Gears Project, Basil Butcher Trust Fund, BCB Patrons Fund, the Singh Brothers Gear Programme and the RHTY&SC Patrons Fund.
More youths are expected to benefit later this year, when a large shipment of gear and other equipment arrives from England. Several clubs in the Upper Corentyne would also benefit from a million-dollar cricket gears' shipment which would arrive early next month from an overseas-based Guyanese, who contacted the BCB President with an offer to assist Berbice cricket.
Clubs in the county would also receive $700,000 worth of cricket balls under the Shimron/Nirvani Hetmeyer Trust Fund and $300,000 worth of scorebooks from a travel company based in Georgetown.
Foster has expressed gratitude to Mohamed, who played for Guyana between 1988 and 1992, for his continued assistance to the development of Berbice cricket. He has also urged Deodat to care the donated gear and to remain focused and disciplined.
A humble and very thankful Deodat has promised to make both the BCB President and Mohamed very proud of his performances on and off the cricket field.