…calls for enforcement of existing littering laws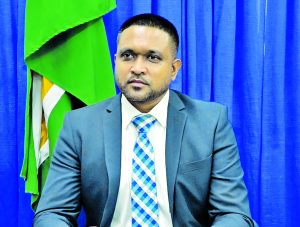 Local Government and Regional Development Minister Nigel Dharamlall on Friday opined that the Georgetown City Council should increase its spending in the area of solid waste management and avoid splurging in unimportant areas.
He was fielding questions during a press briefing, where questions were raised on new bylaws presented by the Council earlier this year to address solid waste management and littering.
Dharamlall pointed out that the collectible revenue for the municipality is about $2.2 billion. However, just a small fraction is set aside for solid waste management – an area which he believes needs adequate resources.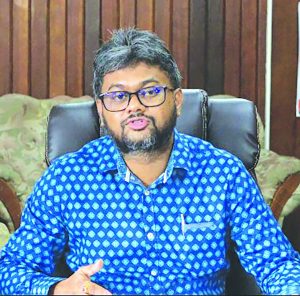 "I think that what needs to happen at City Hall is much more than the political manoeuvrings in the public that is pursued and for the administration to take account of managing the city much better. If you go through the budget, there is a minuscule amount of money placed towards solid waste management by the City of Georgetown, which is possibly the major issue that affects the management of Georgetown," the Minister noted.
According to Dharamlall, the greater imposition of fees in the city will not remedy the issue with the existing operations, but rather put additional strain on stakeholders.
"What they're proposing is to impose greater fees and it is not the imposition of the fees that will change the dynamic on the ground. It is actually getting the work done. They have not been pursuing and collecting what is owed to them…We have seen limited resources placed on enforcement but what we have seen is tens of millions going to public relations. We have seen hundreds of millions go towards employment and who are these people?" he questioned.
One of the propositions in the new bylaws was to have heftier penalties for littering. Commenting on this, the Local Government Minister said that the existing laws should be enforced instead.
"The city has bylaws as well as national laws which, of course, supersede bylaws that can be implemented to manage all of our Local Authority Areas. There is a law against littering and what they have to do is make sure they enforce the laws."
The Georgetown Mayor and City Council, under the Municipal and District Act, Chapter 28:01, is allowed to fine persons $10,000 for littering while the Environmental Protection Agency (EPA) can penalise an individual for up to $50,000 while a corporate body can be issued a fine of $100,000.
Meanwhile, it has been pointed out that Government Ministries have also been assisting significantly in solid waste management and clearances of drainage networks, especially as the rainy season persists.
"Our Ministries have been the ones doing the heavy lifting. The Ministry of Agriculture have basically provided all the resources to keep the city clean and drains properly. Despite the torrential rains, we have been able to manage the drainage system of Georgetown," he outlined. (G12)