The Finance Ministry's Student Loan Agency is to be engaged to manage the Housing Revolving Fund according to Finance Secretary, Dr Hector Butts.
Dr Butts, explained to the Public Accounts Committee (PAC) on Monday at Parliament Chamber, that no disbursement from the Fund has been made because there was no suitable agency to manage it.
Established in 2011, the Fund is an agreement between the Government and the Guyana Teachers Union (GTU). Currently, there is $200 million in the Fund's Bank of Guyana account, which is earmarked to be loaned to teachers so that they can access low-cost housing loans or procure their own house.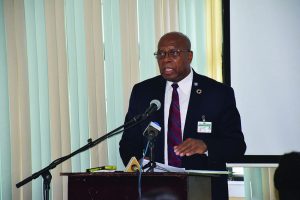 Dr Butts noted that the Student Loan Agency was currently in the process of addressing "some problems right now with its systems," particularly its records and that process was expected to be completed in June.
"After that, we will be looking at the Student Loan Agency, once it handles itself, to perhaps take that on (Housing Revolving Fund) because they are involved in the issue of lending and receiving," Dr Butts said.
The Housing Revolving Fund was an issue raised in the Auditor General's 2015 Audit Report.