– Gaskin's brilliance not enough to save Guyana
By Akeem Greene
Suriname produced a dominant display at the National Aquatic Centre, Lilliendaal to win the overall swim title in the Inter-Guiana Goodwill Games on Sunday.
The Surinamese amassed to 268 points in the 24-event meet while Guyana scored 195 points after surrendering many of their races on home turf.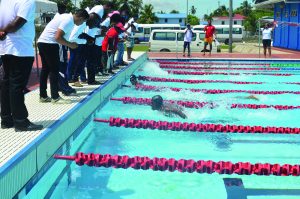 Despite the overall performance seemed gloomy from Guyana, Olympian Hannibal Gaskin produced some sparkling performances in the presence of his father, Minister of Business Dominic Gaskin. Gaskin, who represented the country at this year's RIO Olympic Games,  stamped his authority winning Gold in all four of his individual races, 200m IM (2:23:26s), 100m Butterfly (1:00:56s), 50m Butterfly (27:12s) and 100m Freestyle (56.85s) but had to  settle for Silver in his two relays (200m and 200m Freestyle).
The 18-year-old, faced his toughest test  of the day from Jair Telting in the 50M Fly, with both of the swimmers  going stride for stride until the final few meters when  the Olympian pulled away to win by half of a body length.
Telting went unto  win gold in the Boys 200m Medley Relay and 200m Freestyle Relay while Wendell Zinhagel copped same in the Boys 200m Medley Relay and 200m Freestyle Relay.
Juan  Limburg  won five medals from splendid performances in the Boys 50m Breaststroke, 50m Freestyle, 100m Breaststroke, 200m Medley Relay and 200m Freestyle Relay
In the female action, 12-year-old Jadyn George, also brought some joy to the jovial local crowd, as he managed to cop a gold medal, winning the Girls 200m Freestyle (2:27.60) while her sister Danielle came in second in time of 2:28.67.
For the Surinamese, the 16 year-old Anjali Rahan was  the standout performers, copping five gold medals after winning the 100m Backstroke, 100m Butterfly, 50m Freestyle, 50m Butterfly and 200m Medley Relay.
Valery Amstelveen and Enrico Molly won four gold medals each. Amstelveen was first in the Girls 50m Breaststroke, 100m Freestyle, 200m Medley Relay and 200m Freestyle Relay, while Molly got the better of his opponents in the 100m Backstroke, 200m Freestyle, 50m Backstroke and 200m Medley Relay.