Body on Number 63 Beach
A post-mortem examination (PME) conducted on 40-year-old Nitender Omewrasingh, whose body was found on the Number 63 Beach, Berbice, Region Six (East Berbice-Corentyne) died from shock and haemorrhage, gunshot wound and laceration to the brain.
The autopsy was conducted at the Skeldon Hospital Mortuary on Wednesday morning by pathologist, Dr Vivekanand Bridgemohan.
The body was found on Monday, clad in a blue vest, a pair of long black track pants and also a pair of black and white boots. The discovery was made by ranks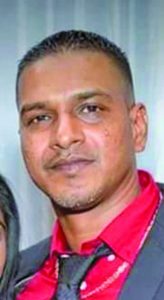 on a routine patrol in the area at about 16:20h. A spent shell and a cellphone were found next to the body. This publication understands that tyre marks were also seen next to the body. He was later identified as Singh and was implicated in a cocaine bust on January 8, 2019 by Surinamese authorities. Some 2300 kilograms of cocaine with an estimated street value of US$200 million was found in rice in a canter truck, which was intercepted at Jules Sedney Haven by the narcotics brigade of Suriname.
Meanwhile, a source close to the investigation told this publication that several persons in the area submitted footage from their surveillance cameras as Police continue their probe.
On January 9, the AFP had reported that Suriname Police made the biggest drug seizure in the country's history.
"The biggest bust ever was around 1300 kilograms and this is likely to be more," said Suriname's Prosecutor General, Roy Baidjnath Panday.
The drug was hidden between sacks of rice and destined for the French overseas territory of Guadeloupe, from where it was to be exported to the French mainland.