The Caribbean Development Bank (CDB) is in the process of developing a new youth policy with the intent of tackling the scourge of youth violence, which has been plaguing the Region.
This was on Tuesday revealed by the Chief of Social Sector Division at CDB, Deidre Clarendon at the opening of the Caribbean Summit on Youth Violence Prevention, hosted at the Guyana Marriott Hotel, Georgetown.
Clarendon said, "At the CDB, we are in the process of developing our first Youth Policy in Operational Strategy and this is scheduled for roll out this year."
According to the CDB representative, the project will feature youth mainstreaming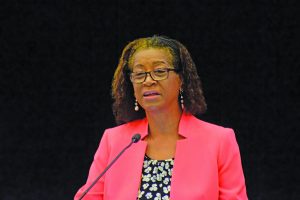 and crime prevention. As a precursor to this strategy, CDB will be channelling greater investments into other youth innovation and empowerment programmes.
The need for such a programme was highlighted at the forum, especially since 80 per cent of prosecuted crimes was found to be committed by youths between the ages of 19 and 29.
This was according to the Caricom Secretary General, Ambassador Irwin LaRocque, who shared remarks during the opening ceremony of the Summit on Tuesday.
LaRocque noted, "Some of the main findings of recent studies are that the majority of victims as well as perpetrators of crimes reported by the Police are young males 18 to 35 years old."
"There are a number of socio-economic determinants of crime, of the least of which is the high youth unemployment in the Region of 25 per cent in 2017. That is three times the average and the highest," he added.
According to him, it has been realised that there was great need for intervention in order to combat the current challenge.
Social Cohesion Minister, Dr George Norton, while delivering the feature address on Tuesday, spoke of the need for developing programmes to help build the self-esteem of youths.
Norton told his fellow Caricom States' representatives that, "We must all continue to implement programmes and activities that seek to develop and enhance youths' self-esteem and confidence; promote tolerance; respect for laws and rules and empower them to be change agents in our societies".
The Minister explained that such programmes must include an avenue for youths to be able to shake off their aggression and release stress and anger, which built up owing to insecurities.
The Summit was hosted with the intent of pooling ideas for the prevention of youth violence in communities and schools and, to an extent, individual countries. It concluded on Wednesday.
The Summit was also geared towards creating "targeted actions" for policy-makers and stakeholders to create and maintain a peaceful Caribbean environment.
Participating in the event were a number of Caribbean countries like Jamaica, St Lucia, as well as other nations, including the United States.