Two taxi drivers were charged and remanded to prison in connection with the home invasion at Moblissa, Linden-Soesdyke Highway. The men, Leon Omar and Dishon Abrams, appeared virtually before Magistrate Wanda Fortune at the Kwakwani Magistrate's Court on Friday.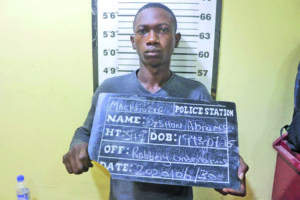 Thirty-year-old Omar, of Lot 370 Kaneville, Grove, East Bank Demerara (EBD), and 26-year-old Abrams, of Brickery Public Road, EBD, were each charged with four counts of robbery under arms committed on Maxine DeNobrega. They were not required to plead to the indictable charges.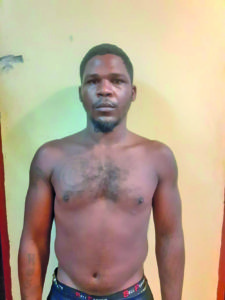 The duo is accused of invading the home of a Mobissa family of five and making off with vehicles, cash and several other valuables while armed with cutlasses at approximately 19:45h on Sunday.
Reports are that after terrorising the family, the bandits made off with a number of items including a silver-grey Fielder wagon motor car, PTT 4321, valued at $3 million; a Mitsubishi short base canter truck, GWW 5695, valued $2.4 million; four Stihl 51 chainsaws valued $900,000; a Stihl 160 grass cutter valued $100,000; a 50 inch TCL television set valued $68,000; a twenty-pound gas cylinder valued $12,000; four cellphones valued $207,000, a YZ grass track motorcycle engine and chassis; a Lenovo Laptop computer valued $80,000; a computer and printer valued $120,000 and $40,000.
Reports further indicated that the Linden-Soesdyke Highway family was making dinner in their kitchen when they were pounced upon by the perpetrators, who began assaulting them and demanding that they hand over their valuables. <<<Guyana Times>>> was told that the bandits ransacked the victims' home and forced them into their bathroom and made good their escape with the articles. Meanwhile, after receiving information regarding the incident, the woman's brother, who is a security guard, proceeded to the East Bank of Demerara (EBD), where he spotted the car, PTT 4321, travelling in the opposite direction at Pearl Public Road, EBD. He began to follow the car which was reportedly being driven at a fast rate of speed. This caused the driver to lose control of the vehicle and crash into the curb wall opposite Demerara Distillers Limited (DDL) at Diamond, EBD. Two male occupants then exited the car and made good their escape in some nearby bushes. The car was later taken to Golden Grove Police Station and lodged to be processed. Then, at about 21:45h, ranks attached to the highway patrol base and relatives of the victim, acting on further information, made checks along a trail at Haruni village, Linden-Soesdyke Highway where they found a car parked and locked. The car was towed and taken to the highway patrol base. Police then found a chain saw and a television set in the front seat of the car. The duo was later arrested and charged in connection with the crime. The men will return to court on July 31.