A 14-year-old pillion rider is now dead after a hire car reportedly made an abrupt turn along Dennis Street, Sophia, Georgetown, resulting in the motorcyclist losing control of the bike and slamming into the vehicle.
Dead is 14-year-old Isaiah Cordis, a Third Form student of Cummings Lodge Secondary and of Lot 20 Dennis Street, Sophia, Georgetown.
Reports are that on Monday, at about 02:30h, Cordis and his friend, 23-year-old Richard Thunderus, were proceeding along Dennis Street, Sophia, heading towards their homes after Mashramani day celebrations when the accident occurred.
The duo was on motorcycle CK 2209, which is owned by Thunderus, in the vicinity of the Beepat's building, proceeding east along the northern driving lane allegedly at a fast rate of speed when they approached motor car HC 3049.
Thunderus told the police that while he was in the process of passing the car, the driver of the car suddenly turned south into his path, causing him to lose control of the motorcycle.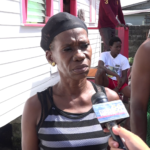 He then collided with the right side of the vehicle and as a result of the impact, both Thunderus and Cordis fell onto the road's surface, receiving injuries about their bodies.
The injured duo was picked up by public-spirited persons and rushed to the Georgetown Public Hospital Corporation (GPHC) for emergency medical treatment. However, the 14-year-old succumbed to his injuries while receiving medical attention.
Speaking with Guyana Times, the teen's mother, Kim Carol said that she was at D'Urban Park for the Mashramani celebrations when her son showed up at around 02:00h on a motorcycle with his friend.
Shocked at the sight of him, the grieving mother added that she started heading in his direction to approach him, but the motorcycle sped away.
"I was speaking with my sister and when I turn around I saw him…I run off the stand now to come down to go and get him but by the time, it was more than one bike so they ride out with a speed so I didn't get to which direction he go," the grieving mother related.
Carol related that a short while after, she received a phone call informing her of the teen's death. According to her, the now dead teen was warned several times of riding dangerously and the company he kept, but he did not heed her advice.
"He was a child, I was talking to him several times about this bike, the riding and the company and he didn't hear because if he was listening, he wouldn't end up in this. He was in an accident only the other day."
Meanwhile, breathalyser tests were conducted on both Thunderus and
the driver of the hire car. The tests revealed that neither was driving under the influence (DUI).
Thunderus, along with the driver, are presently in Police custody assisting with investigations.