GFF/Stag Super 16 Year-End Tournament…
– finale unravels at GFC Ground
After seven days other intense action in the Guyana Football Federation (GFF)/Stag Super 16 Year-End Tournament, on Tuesday, a new champion will be crowned when finalists Buxton United and Den Amstel square off for top honours at the Georgetown Football Club (GFC) Ground.
In the match which precedes, Western Tigers will battle Fruta Conquerors in the third-place showdown.
On Friday, the semi-finals were contested at the same venue. In the first match-up of the night, Den Amstel faced off against the mighty Fruta Conquerors in an all-out affair which saw the former upstage Conquerors 2-1 to advance.
Jamal Harvey wasted no time in attacking as he planted one in the back of the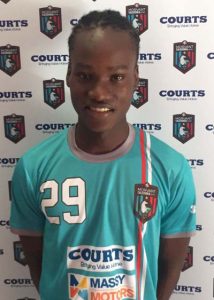 Conquerors' net in the 14th minute to give Den Amstel the lead.
Six minutes later, Harvey returned to defy the opposition's defence and make it a comfortable 2- 0, which lasted until the halftime whistle was sounded.
After the break, Conquerors pulled one back thanks to their captain, Eon Alleyne. But with only just over five minutes left in the match, an equaliser was a task too tough for Conquerors.
In the other match for the night, Buxton United defeated Western Tigers by the same margin. Following in the footsteps of Den Amstel, the Buxtonian side played on the defensive for the earlier part of the match-up as neither team conceded any goals in the first 30 minutes.
However, Dillon Wright's 37th-minute goal got things pumping.
Four minutes later, Western Tigers' Kelsey Benjamin produced the equaliser which kept the game level until half time.
In the second half, both teams shared possession in search of the decider, but it was the Buxton side that had the last laugh as Shemar Fraser put the final nail in the coffin in the 89th minute, to stun Tigers and end the night on a high note.