GFF/ExxonMobil International Futsal Festival…
The GFF/ ExxonMobil International Futsal Festival continued on Saturday and was scheduled to be concluded on Sunday evening at the Cliff Anderson Sports Hall (CASH) on Homestretch Avenue.
Saturday night's action saw Georgetown, East Coast, Trinidad & Tobago, ZV All Stars and Galacticos De Roraima record victories.
In the match which headlined the night, East Coast cruised to a comfortable victory over the West Demerara All Stars, 7-4. The West Demerara side started their match with persistence as they scored the first goal in the fourth minute thanks to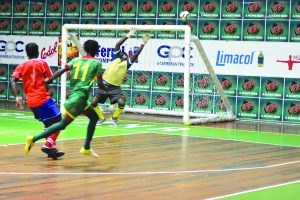 good anticipation by Stephon Jupiter.
Four minutes later, East Coast equalised as the in-form Dwain Jacobs added his name to the tally. East Coast then went on to quickly capitalise with three more goals in a matter of six minutes as Jacobs, Quason MaClean and Selwin Williams took the score to 4-1.
West Demerara, having a three-goal deficit, went on to score their second goal as Trayon Bobb scored in the 22nd minute which was shortly followed by Jupiter to take the score to 4-3. However, East Coast rallied on to take the lead as Selwin Williams scored in the 23rd minute, Phillip Williams in the 26th and Jacobs the 30th minute to wrap up the match despite Jupiter returning in the 29th minute to score a consolation goal.
In the other match-up, Guyana All Stars went down to the in-form Galacticos De Roraima 4-3 in a nail-biting encounter.
The Brazilian side took control of the match early as they drew first blood, compliments of Raphael Lopes in the fifth minute Five minutes later, Leilson Dasilva capitalised on an opportunity and took the score to 2-0.
Needing two goals to equalise, the Guyanese side scored three minutes apart as Colin Nelson and Deon Alfred added their names in the 12th and 15th minutes, respectively.
With the scores deadlocked at 2, the Brazilians sensed victory on the horizon as they clamped down on the host side when Raphael Lopes and Lucas Martins scored in the 20th and 38th minutes to give them victory, despite Nelson's goal in the 35th minute.
In the other fixtures, Trinidad defeated the Georgetown All Stars 5-3 and ZV All Stars trounced Linden All Stars 5-4.