Trophy Stall once again has assisted in the sporting world with its recent involvement in the hosting of the sixth edition of the Upper Demerara Football Association (UDFA) GT Beer Year-End Football Tournament.
The proprietor, Ramesh Sunich recently donated the winner's trophy for the ongoing tournament to the organising team.
The 10-team tournament commenced on December 9 at the Mackenzie Sports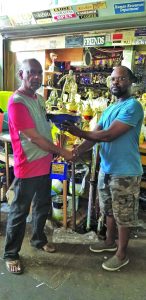 Club Ground and is approaching its finale.
It has completed five of the seven playing days so far and wraps up on January 1, at the same venue from 19:30h.
In the third-place play-off, Winners Connections FC take on Botofago FC for $400,000, with the fourth placed finisher having to settle for $200,000.
In the feature game, League champions Eagles FC will face off with the league's runners-up Net Rockers for the top prize of $1.2 million and the second-placed team will cart off $600,000.