− Swim Coach Shawn Baksh
By Jemima Holmes
While Swim Coach Sean Baksh is satisfied with the record-breaking swim of Guyana's 15-year-old Olympian Aleka Persaud just about two weeks ago, he is already planning how he can better the teenager's star quality.
In explaining Aleka Persaud's preparation for the recently concluded Tokyo Games, this Coach has noted that Aleka's preparation was a community effort – the same kind of collaboration needed to create champions, he said.
"To create a champion, we need a team of people. It's not a single-person job, it's not an Aleka job; it's a group of people, including the media, the Government of Guyana, the GOA. She needs a nutritionist, she needs a trainer, she needs a massage therapist, she needs somebody to work with her mentally. All those things."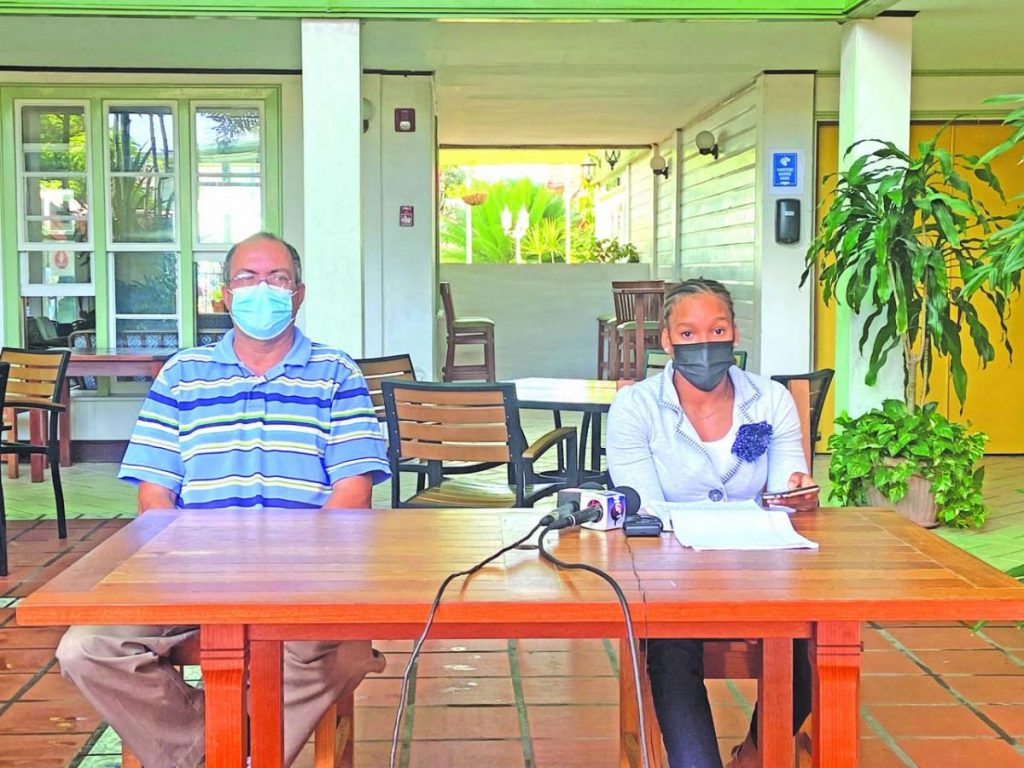 The Coach continued, "Her mother plays a very important part; she has to take care of the school work and ensure Aleka does the school work. It's a team sport. Although it's a single individual swimming, it's a team thing."
Coach Baksh has revealed that a development plan has been crafted that would propel Guyana's young swimmers to the next level. He explained, "We have had talks with the GOA through the President of the Swimming Association. The GOA did ask for a development plan for our athletes, not Aleka per se, but we are preparing that document, which includes Aleka, and we will be approaching them shortly."
This plan is not only catered to Aleka, as Baksh believes there needs to be other strong local swimmers, not only to equip Aleka with great training partners, but to simultaneously push the sport forward.
"It is very important for her to continue to train at high levels, or compete at high levels, or else she's going to fall back. We have to have good training partners for her here, and we also have to have them do the same things that she's doing for the sport to move forward, not just to be here, but we need to develop a corps of athletes – not just one single person or two, we need to develop a corps so that there's always somebody coming up behind somebody, and that is our work currently," Baksh explained.
Further, he said, "We do have a few, and we've shortlisted 18 athletes at the moment for development purposes."
As testament to how Aleka's memorable Olympic performance has motivated other swimmers, Baksh stated, "Aleka has motivated the athletes… they're all swimming fantastic (times) in the pool. They're all looking up to Aleka, they all want to do the same things that Aleka did, and they're all putting their best foot forward. They're coming out, they're training, and that's the most we can ask for at the moment."
In regard to sponsorship, Baksh related the struggles Aleka's team had in getting her to adequately prepare for the Olympics. However, they are still committed to working along with the Government of Guyana, he said.
"We are currently speaking with the Government, we are going to be looking for sponsors for the other stuff. I did try the GOA (Guyana Olympic Association) for the two meets, we got no assistance," the Coach disclosed.
He added, "The Puerto Rico meet was mainly funded by her parents, and the Bahamas meet we did get some sponsorship from corporate Guyana, thanks to Modern Optical Service, Power Producers and a few other friends of mine that came in and chipped in. So we got to the Bahamas, and she did break the record there, and the Olympics was the icing on the cake."
Aleka's next stop will be the Junior Pan American Games, and Baksh is certain she would be able to topple a few more national records. The first ever edition of the Junior Pan American Games is scheduled for November 25 to December 5, and Persaud is currently expected to participate in three events.