With the XXIII Goodwill Swim Meet just nine days away, head Coach of the National Team Sean Baksh contended that there will not be a miraculous change in the country's fortunes at the event.
Responding to question at a recent interview whether host Guyana can produce a one to three overall finish, the coach replied in the negative.
"Realistically no but we are hoping to do a whole lot better than we did last year. Improve on our point standings and have more medals," Baksh said.
Last year Guyana produced a team of 29 swimmers when the event was held in St Lucia, and came back with 15 medals, including three golds. However, Guyana finished sixth, out of six countries.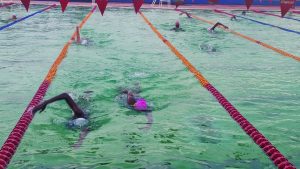 The Land of Many Waters has a dismal performance history at the developmental event, which was originally designed for swimmers from the participating countries who have not yet competed at higher levels of regional competition.
The 40-member team has been going through gruelling preparations for the last two weeks at the National Aquatic centre, Liliendaal, the venue for the meet.
"We are doing a lot of speed work to bring it up to par. We are really working hard to get them up to par. Eight and under swimmers are our weakest and we cannot do anything about that since they are now getting in the pool, but the others will do well", the coach declared.
Though holistically there is not much optimism, the coach sees great promise from some swimmers, who he touts to break records.
"Based on entries that have arrived we are ranking high and the likes of Leon Seaton, Jadyn George, Aleka Persaud, Alex Winter, Joseph DeNobrega among some others we are in line for a few medals and I believe we will a few records that will fall in our benefit," Baksh added.
Given that for most of the individual events Guyana will be fielding three swimmers (the limit); the experienced coach is cognisant of the importance of the relay teams turning in good performances, since it will gather crucial points.
"Our 15-17 boys are good and we are working on our 13-14 girls. A relay team is only as strong as weakest swimmer", he posited.
The Swim Meet would be held from August 18 to 21 with swimmers coming from the meet's core countries – Trinidad and Tobago, Suriname, Barbados, and St Lucia – while Bahamas and Grenada will be participating based on invitations extended by Guyana.