The community of Kurtaka in the Cuyuni River, Region Seven (Cuyuni-Mazaruni) was sent into a state of shock on New Year Day, when the village's Toshao was beheaded by his son-in-law after he intervened in a domestic dispute.
Dead is Toshao Solomon Lewis, who resided in the said community.
Reports are the incident occurred at about 04:00h on January 1. Guyana Times was told that Toshao Lewis and his son attempted to stop his 27-year-old son-in-law from beating his daughter.
Annoyed at the two men's intervention, the suspect armed himself with a cutlass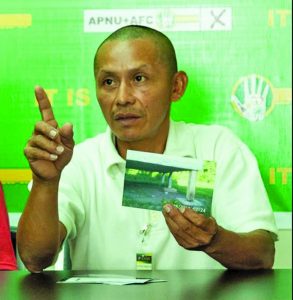 and dealt several chops to his father-in-law, severing his head in the process.
He then turned his attention to his brother-in-law, dealing him several chops also which reportedly severed one of the man's hands. Following the incident, the suspect fled the scene in a boat.
The team of law enforcement officers who were dispatched to the area to probe the murder arrested the suspect on Wednesday.
The body of the dead Toshao and his injured son were also transported to Bartica as investigations continue.
When contacted, former President of the National Toshaos Council, Joel Fredericks related that security has been a concern of many village leaders within communities of the riverine and hinterland regions. In some scenarios, they are vulnerable to attacks because their dwellings are isolated from the community.
As a former chief, he mentioned, "For the Indigenous people in the hinterland, there is a security problem. The thing is with the way some of the villages are situated, the Toshao is not in the central part of the area. Some of them live outside or far away so it's difficult."
Another concern raised was the location of Police stations and medical facilities which affects the response to such incidents.
"The health facility sometimes is not where the majority of the population is.
Sometimes they have to go up the river or down the river. Especially in the riverine area, that is an issue for most of the villages because people live along the river."
With condolences pouring in, another former executive member of the NTC, Eyon Boyal posted on his social media page that Indigenous leaders over the years have asked for handcuffs, guns and Police outposts for protection against their "high-risk" jobs.
"As a former Toshao, I have listened to my fellow Indigenous leaders at successive National Toshaos Conferences request guns, handcuffs and even Police outposts or Police patrols… Toshaos, indeed need protection of all sorts since you are the father of the village, all villagers turn to your help," his Facebook post read.