Clerk of the National Assembly, Sherlock Isaacs has confirmed that Tourism Minister, Oneidge Walrond is not a dual-citizen anymore, after providing proof that she would have undertaken the Oath of Renunciation regarding her US nationality.
This position came in light of a fracas created by the APNU/AFC Opposition, questioning her appointment as a Government Member of the Assembly, sitting as a Technocrat Minister. However, Walrond last month had already explained that she renounced her citizenship and received a Certificate of Loss of Nationality, before she took the oath of the National Assembly on September 1.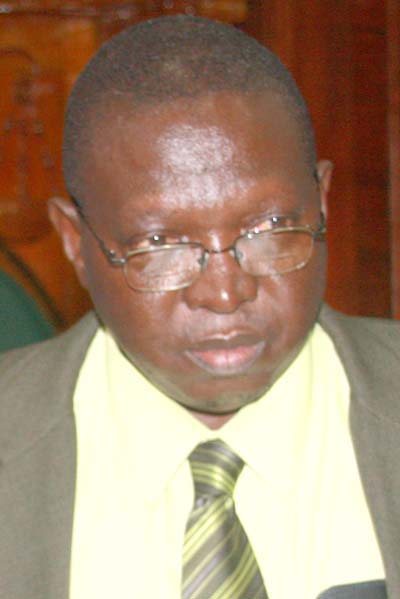 Despite this, however, the APNU/AFC Opposition has been calling for Minister Walrond's resignation, claiming that she violated the Constitution, which prohibits persons holding dual citizenships from sitting in the National Assembly.
In light of this, Isaacs issued a correspondence to the coalition's Attorney-at-Law, Roysdale Forde, informing him that Walrond "voluntarily took the Oath of Renunciation regarding her nationality of the United States of America during the month of September, 2020".
It went on to clarify that the Minister lost her US nationality when the oath was administered to her, and a copy of the document was also attached.
Meanwhile, at his press conference on Friday, Vice President Dr Bharrat Jagdeo expressed that Walrond made a sacrifice to renounce her second citizenship in order to serve Guyana, especially given the fact that she was not involved in politics.
He also slammed Opposition Leader Joseph Harmon, who had occupied a seat in Parliament without renouncing his second citizenship under the coalition's time in office.
"Oneidge Walrond wasn't a politician. We should be happy that people who are not politicians are coming into Government. She came in as a Technocrat Minister, former Magistrate, etc. Harmon, who squatted in Parliament all these years had it not been them going to court for Charrandas, would have continued to squat in Parliament. He is now moralising because Oneidge Walrond went earlier to the Embassy but only got her certificate a few days after she was sworn in."
Jagdeo reminded that given Walrond's status as a Technocrat Minister, she was never required to sign a declaration and thus, did not commit any fraud.
"Oneidge Walrond did not sign a declaration form. That's the difference. All those who signed declaration forms committed an illegal act, that they didn't have citizenship. Harmon and a few others signed the declaration form. Oneidge Walrond didn't have to sign that because she was not on the list. So it wasn't that she committed any fraud," he asserted.
Minister Walrond was not on the People's Progressive Party/Civic (PPP/C) candidates' list, but rather was appointed as a Technocrat Minister. However, the Minister noted that she still took the step to renounce her second citizenship "out of an abundance of caution."
She explained in a statement on October 25 that after she was invited by President Dr Irfaan Ali to serve in his Cabinet on August 5 – the same day she was sworn-in as a Minister – she sought legal advice and was told that as a Technocrat Minister, Article 155 (1) of the Constitution of Guyana would not exclude her from being an MP while also being a dual citizen, since this provision speaks to the qualification of an MP for "election" to the National Assembly.
"I accepted because I consider the opportunity to serve my people and my country at this capacity as both an honour and privilege. As an attorney-at-law, and being mindful of my (then) status as a US citizen, I sought the counsel of other attorneys on whether the sections of the Constitution prohibiting elected members from being dual citizens applied to me as a Technocrat Minister.
"Despite advice that this provision did not extend to technocrats, out of an abundance of caution, I decided to renounce my citizenship to put the matter beyond all doubt and avoid any distraction to the good work of the Government," the Tourism Minister, who is a former Magistrate, explained.
Walrond went on to say that she wrote to the US Consular Office on August 18, renouncing her citizenship to the United States of America with immediate effect and was informed of the administrative procedure that she must comply with in order to obtain a Certificate of Loss of Nationality of the United States.
She added that she complied with that process by August 27 and has since received her Certificate.
However, even as the coalition Opposition continued to peddle the narrative that Walrond is a dual citizen, a United States (US) Embassy official in Georgetown has since disclosed that according to the Immigration and Naturalisation Act, Section 349, Minister Walrond lost her American citizenship when she appeared before a consular officer to take her Oath of Renunciation.
US position
US Embassy spokeswoman Violeta Talandis told this newspaper on Tuesday that that loss of citizenship occurs when an American citizen takes the Oath of Renunciation before a consular officer, not when the Loss of Nationality Certificate is issued.
"When they appear before the consular officer (loss of citizenship occurs). It's under the Immigration and Naturalisation Act, Section 349, Section 5 (a)," Talandis explained.
The United States' Immigration and Naturalisation Act Section 349 (a)(5) states that "a person who is a national of the United States whether by birth or naturalisation, shall lose his nationality by voluntarily…making a formal renunciation of nationality before a diplomatic or consular officer of the United States in a foreign state, in such form as may be prescribed by the Secretary of State." (G12)