The Director of the Child Care and Protection Agency (CCPA), Ann Greene on Friday said that medical tests are conducted on all children who are found to be abused, followed by treatment offered by the state.
Her comments came at a time when children have been reported to have contracted the deadly Human Immunodeficiency Virus (HIV), Sexually Transmitted Infections (STIs), as well as ruptured uteri during sexual abuse.
"Every child that is taken into care that were abused gets a medical done. That's part of it so every child has to have a medical examination (and) if there is anything found that child has to be treated," Greene informed.
She added that this treatment is provided free of cost by the State as a form of assistance.
In addition to this, the Director of the Child Department noted that counselling is done with the affected child to ensure certain measures are not resorted to, including suicide.
Greene was sceptical to divulge any information on the number of children who were treated for the various Sexually Transmitted Infections (STIs) or Sexually Transmitted Diseases (STDs), explaining, "It damages children and it damages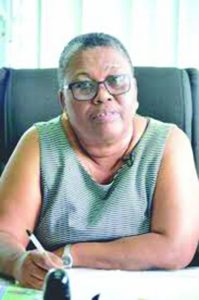 things what we (are) doing".
A study recently conducted by ChildLink revealed that a number of children have suffered from a ruptured uterus as well as the most dreaded sexually transmitted disease, HIV.
In this specific research, 338 victims were screened and at least four were discovered to have ruptured uteruses, among other health implications.
The report said that many of the children had to be hospitalised as a result of the extent of the abuse, while some even required surgery for their injuries. On the other hand, some children became pregnant while others contracted HIV, gonorrhoea, chlamydia, syphilis, or other STIs.
According to the report, children were even told that if they spoke out the abusers would tell people they have contracted AIDS.
The document said, "Child sexual abuse [CSA] must be seen as an important path for the transmission of HIV, Hepatitis C, and other STIs including the virus that causes cervical cancer. Left untreated, some of these infections will lead to infertility and even death. A person who is abused in childhood and does not receive adequate medical attention, including STI screening, is at risk of suffering irreparable harm and innocently transmitting infections to others".
When it comes to other effects of child sexual abuse, ChildLink found that victims complained more of being sad, getting angry easily, feeling bad, thinking about the abuse "all the time," crying a lot, feeling down or depressed, and "spacing out a lot." Participants described feelings of loss of control over their emotions and their lives. Many reported new or nearly constant anxiety.
Victims even reported that they are affected by nightmares, problems with sleeping or eating, flashbacks, numbness, irrational fears, incessant crying, and suicidal feelings, including significant suicide attempts.