Trophy Stall are the latest sponsors to pledge support to the highly anticipated Stag Beer Day/Night Grass Track Championships slated for Saturday at the Anna Regina Community Centre ground.
The entity has donated some of the championship trophies and according to organiser Sheik Yaseen who has present to receive the trophies, the support is an invaluable.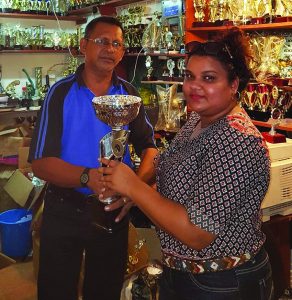 Yaseen thanked them for their continued support of the championship and looked forward to continued partnership.
In giving an update on the event, he explained that all systems are in place and all riders and ready to thrill the fans.
The organiser also eliminated any doubts over whether rain would cancel the event stating that "rain or no rain, the action will go on".
He called on all to come out in their numbers since the concept of the event is the first of its kind in the Cinderella County.
At total of 27 daredevils are expected to compete across there different categories, with the return of 2016 champion Andrew Wong set to challenge currently leader Steven Nobrega.
There were will be five professional races (12 laps per race); three Novices (10 laps per race) and two for newcomers (10 laps per race).
The other sponsors are ANSA McAL under their Stag Beer brand, Roosters Coconut water, R. Ganesh Mining, Kahn AutoZone, Savannah Riders Club and Essequibo Biker Boyz.
The event is set to commence at 16:00 hrs with tickets for Adults $1000 Children $500.