With the exciting four-team knock-out softball extravaganza hosted by the Malteenoes Sports Club (MSC) set for this Sunday; long-time sponsor of sports in Guyana, Trophy Stall recently hopped on-board the event.
All roads will lead to Malteenoes ground as a day of fun and frolic for the entire family as one of Guyana's most preserved cricket clubs, host the tournament with 3 major trophies up for grabs. Winners, Runners-Up and player of the finals will each claim a trophy with registration fee starting at $15,000 per team.
On Thursday, the trophy was presented to MSC Treasurer Troy Lewis at the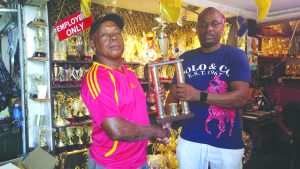 business' Bourda Market location. Lewis thanked the entity for their continued support and highlighted that the Event was the fund raiser for 2019 with part proceeds with go towards to funding of the all-weather practice facility presently under construction at the MSC Pavilion.
MSC is currently seeking sponsorship to construct two concrete and a turf pitches in an enclosed area, for the use by not only club members but any player or team under the Georgetown Cricket Association (GCA) umbrella; for a meager fee.
Sunday's action will see Herstelling Masters, Success Masters, Fisherman Masters and Ariel Masters duking it out for the customized Trophy Stall Cup.
Meanwhile, curators ensured that the venue was well prepared with the ground cut and in top condition.