Trinidad and Tobago (T&T) Prime Minister Dr Keith Rowley arrived in Guyana on Tuesday, ahead of the Agri-Investment Forum and Expo.
Upon arrival, President Dr Irfaan Ali met with the visiting Prime Minister and his delegation at State House, Main Street, Georgetown, after which they had discussions over lunch. Prime Minister Rowley and members of his Cabinet are in Guyana on a five-day visit to attend the Expo, which will be held from May 19-21 at the Arthur Chung Conference Centre.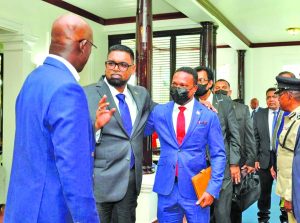 The Guyana delegation was composed of Senior Minister within the Office of the President with responsibility for Finance, Dr Ashni Singh; Agriculture Minister Zulfikar Mustapha, Natural Resources Minister Vickram Bharat, Tourism, Industry and Commerce Minister Oneidge Walrond; Foreign Secretary Robert Persaud and other officials.
Undertaking the mantle to lead the agri-food agenda for the Caribbean Region while cutting the colossal food import bill, Guyana will be the hub for potential investment talks this week at the inaugural Agri-Investment Expo and Forum.
Preparations are in the final stage for the hosting of the three-day event, organised at the Arthur Chung Conference Centre on the East Coast of Demerara with key input from the Caribbean Community (Caricom).
Over 250 exhibitors have already booked their booth, with international stakeholders from countries such as Jamaica, the United States of America, Trinidad and Tobago, Ghana and Barbados.
Agriculture Minister Zulfikar Mustapha shared during Monday's update of the event that 82 local agro-processors will be involved. Some 550 delegates – 400 of whom are overseas-based – will be in attendance.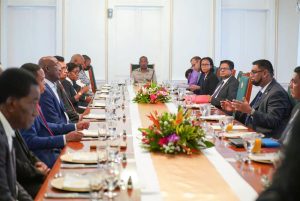 During the event, potential investors and donors will discuss emerging opportunities for agriculture in Caricom. A matching of bankable agricultural projects with willing private and public financiers will also advance the food system agenda for the region.
Besides Dr Rowley, the attendance of four other Heads of Government from Antigua and Barbuda, Barbados, Belize, and Dominica have thus far been confirmed. The Deputy Prime Minister of the Bahamas, and the Premier of Montserrat will also be arriving. The Agriculture Ministers of the Bahamas, St Vincent and the Grenadines, Belize, Trinidad and Tobago, Jamaica, Dominica and Barbados will be part of this event.
At the 32rd Inter-Sessional Conference of the Caricom Heads of Government, a special ministerial taskforce was established and tasked with guiding the transformation of the regional agri-food system towards full commercialisation. A prime focus was to address the rising food import bill and to stimulate investment in agriculture and food production.
By the 33rd sessional conference, President Irfaan Ali had presented a detailed plan for commercialising the agri-food sector and at the same time, attaining the vision for reducing the food import bill by 25 per cent by 2025. Emphasis was placed on countries and their respective target areas. The Heads of States had also agreed on an agriculture forum and expo, cementing a platform for investment in the regional agriculture sector.
"The forum is therefore geared towards the promotion, engagement and informed dialogue among key stakeholders along the agri-food value chain of policymakers, development partners, foreign and local private investors, farmers, distributors, and on how investment could be encouraged," the Agriculture Minister asserted.
Assistant Secretary General for Trade and Economic Integration at the Caricom Secretariat, Joseph Cox zeroed in on the US$6 billion food import bill for the region during the press conference, identifying the vast potential for investors to tap into.
"That's US$6 billion of potential opportunities for the region that we have to seek to capitalise on. We're extremely buoyed by the interest that has been shown from countries all over the world and indeed by participants who continue to bombard us at Caricom and Guyana in terms on how they can participate. There is an appetite for it and it is full time that we start to treat with, and confront the opportunities that exist."