Trinidad and Tobago's (T&T) Chief Elections Officer, Fern Narcis-Scope, was absent from the Caribbean Community (Caricom) high-level team to observe Guyana's recount and according to the T&T Prime Minister, the country wants to avoid its electoral officials becoming entangled in further election dramas in Guyana.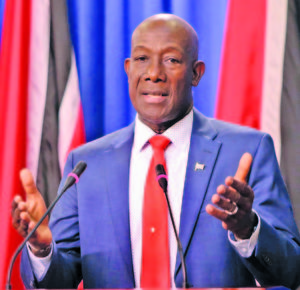 T&T Prime Minister Dr Keith Rowley made this revelation during their 25th Sitting of the House of Representatives. He was questioned by representatives in the House why Trinidad did not send Narcis-Scope as part of the second team.
"You raised the question of why the Trinidad and Tobago rep, the Chief Elections Officer, not back in Guyana? I took the position that Trinidad and Tobago had made its position very clear. There was an observer mission in Guyana from Caricom. That mission observed the election, the election took place, that mission left before the results were concluded."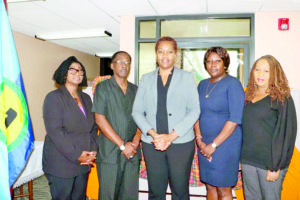 "Had the mission stayed they would have been there all now. However, subsequent to that, when the difficulties began to appear, a delegation of leaders of Caricom visited Guyana. I was among that mission. And we met with all the political parties in Guyana. And we thought we had brought some positive movements."
He recalled that subsequent to that, caretaker President David Granger and Opposition Leader Bharrat Jagdeo came together and invited Caricom to send scrutineers to observe a mutually agreed upon recount.
"It was in that context; the Chief Election Officer was identified as the person from Trinidad to be on that mission. Having arrived in Guyana, that agreement did not pan out, it ended up in the court and very serious accusations were made against Caricom. And it was my view and the view of the Government, that with this being the outcome the Chief Elections Officer, of Trinidad ought not to be in that position, at any time, to be accused in that way in a Caricom country."
"So, we did not send back our election officer there, because we want to preserve our pristine position in these matters of the conduct of free and fair elections. But there's a Caricom team there and we are anxiously awaiting a positive outturn, meaning a conclusion to an election in Guyana," Rowley explained to the House.
The first recount team from Caricom was chaired by former Attorney General and Foreign Minister, Francine Baron and included former Minister of Finance of Grenada, Anthony Boatswain; Senior Lecturer in the Department of Government of UWI, Cynthia Barrow-Giles, and Fern Narcis-Scope.
But the Granger-Jagdeo recount agreement was derailed when A Partnership for National Unity/Alliance For Change (APNU/AFC) candidate, Ulita Moore, moved to the courts and secured an injunction against the exercise from Judge Franklyn Holder. That injunction was later thrown out by the Full Court and the Full Court's decision was upheld by the Appeals Court. The damage was already done, however, as the team had by then left the country.
Before that, however, the court ruled that Caricom could not usurp GECOM's responsibility to oversee the recount. The People's Progressive Party (PPP) has always argued that APNU/AFC deliberately misinterpreted Caricom's role in the exercise in order to go to court and derail the recount.
GECOM subsequently re-invited Caricom to send a team. This they did, with the second team being comprised of Barrow-Giles, Commissioner of the Antigua and Barbuda Electoral Commission, John Jarvis and Deputy Supervisor of Elections of St Vincent and the Grenadines, Sylvester King.
Before the team even arrived in Guyana, however, there was more drama as the National COVID-19 Task Force, led by caretaker Prime Minister Moses Nagamootoo, informed GECOM that the team would have to be quarantined in a Government facility for 14 days after they landed in Guyana. Nagamootoo also informed GECOM, a constitutional body, that it cannot extend its recount into curfew hours.
After an outcry from the PPP, which accused Nagamootoo of wielding the Task Force like a political weapon to deter the observers from coming, these stipulations were relaxed. A decision was made for the 18:00h to 06:00h curfew to be relaxed and for foreigners coming here to observe the process to be pre-tested in their own countries as against being quarantined for fourteen days upon their arrival here.