– CONCACAF U-17 Women's World Cup Qualifiers
The U-17 Lady Jags' starting XI will remain unchanged for today's clash with Cuba in game three of their Group D CONCACAF World Cup Qualifiers, to be held at the National Track and Field Facility at Leonora, WCD.
Having already lost the opening game against Barbados by 5-1, only a win by a large margin can give the Lady Jags any hope of qualifying, as the winner of the group is guaranteed automatic qualification while the best second place teams have a shot at qualifying also.
However, that is a long shot, to say the least, as the Cuban team possesses superior technical skills and is a well-oiled unit on the pitch. The score line in the Cuban game against Barbados on Friday does no justice to the team's ability.
At a pre-game conference on Saturday, Cuban Head Coach Lazaro Ruis noted the importance of his side not taking the game against Guyana for granted, as each game is different and football is an unpredictable game.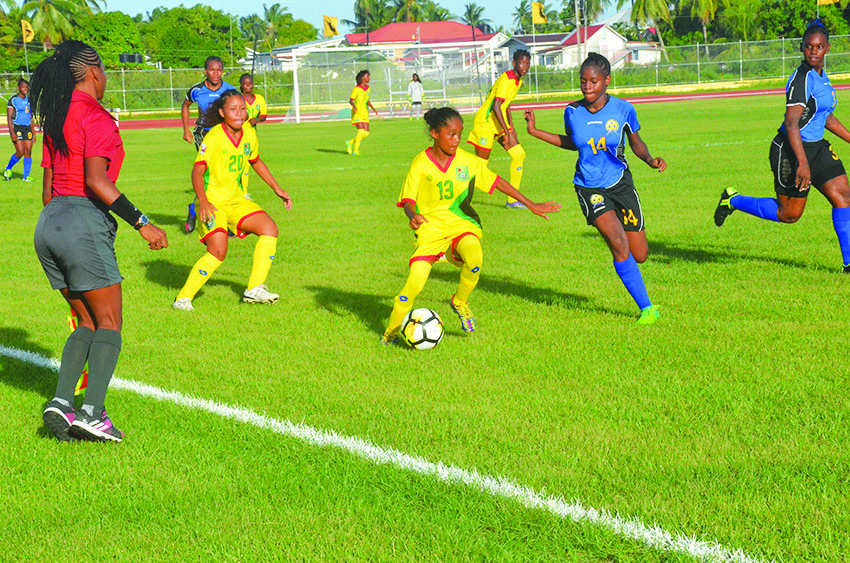 Ruis revealed that his side will be more structured in their approach to today's game, as they do not want to repeat a scoreless match like what obtained against Barbados.
Guyana Football Federation's (GFF's) President, Wayne Forde, contended that while the Guyanese team is inexperienced, there has been a great improvement from when he first saw the team practising three weeks prior to the tournament.
The hosting of the Group D qualifiers is a launching pad for the development of women's football in Guyana, according to Forde; and after the GFF Training Facility is built, there will be even more strides in getting the game up to scratch.
Forde also maintained that while hosting the tournament has been a challenge, the federation has risen to the occasion and pulled off a well-coordinated and well-planned tournament.
Today's game begins at 17:00hrs at the National Track and Field Facility at Leonora, West Coast Demerara and admission is free. The GFF President is urging fans to come out and support the Guyanese team in their bid for victory.