As Guyana prepares to establish a local law school, outgoing Head of Department (HOD) at the University of Guyana's Law Department, Ronald Singh has accused operatives within the institution's administration of executing an orchestrated move to force him out of his post.
He premised this belief on the opposition he faced when he had highlighted and recommended sweeping changes to the Law Department.
He further revealed that among the changes were a revamp of the grading system, assistance for elderly lecturers, his complaints over the high failure rate of key courses, salary woes, the lack of an assistant administrative officer and deficiencies in the second marker's system. He raised the issue of the slothfulness of UG's Examinations Division and of some lecturers in returning grades in a timely manner to the Registry which affected placements at the Hugh Wooding Law School in Trinidad and Tobago.
He noted too that he recommended and repeatedly advocated for several new courses to be offered at UG, especially in Competition Law, highlighting its importance in light of a local beverage company filing a motion against the revenue agency over a multibillion-dollar tax write-off to its competitor.
Singh also lamented the added strain he was under due to the non-appointment of an Assistant Admin officer in the department. He later revealed that he did at one point refuse the UG administration's instalment of the officer due to previous allegations levelled against the individual which included the selling of exam papers.
JOF Haynes Law School
Meanwhile, the outgoing Law Department head welcomed the institution's prospective law school, due to take its first batch in 2018. He noted that the school would bring tremendous benefits to the country.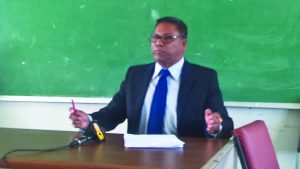 "I am happy to know that that programme is coming on stream because for the last five years I have been fighting for something similar," the HOD noted.
He, however, argued that Guyana should focus less on Caricom (the Caribbean Community) and concentrate its efforts on joining partnerships with its South American counterparts. To this end, Singh called for Guyana to move away from Common Law and replace it with Civil Law, which neighbouring Suriname follows.