Bartica Massacre trial
In another twist to the ongoing Bartica massacre trial, co-accused Dennis Williams has moved to have his attorney removed from representing him. In the defendant's absence at Wednesday's hearing at the Demerara High Court, Defence Counsel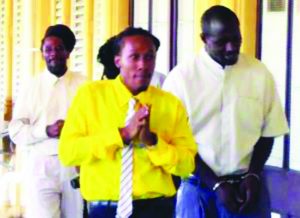 Shaphier Husain informed the court that his client has discharged him from the matter. Husain further explained that earlier that morning, there was "some difficulty with the prison" and as such the co-accused could not attend court.
In response to the attorney's disclosure, presiding Judge, Justice Roxane George, SC, ruled that Husain still has to attend court so that the three-month trial is not delayed. In fact, the Judge stated that upon consultations with the Chief Justice, Husain may be re-assigned to his client by the State.
"We can't wait for another counsel to be assigned," Justice George revealed.
It was only Monday that the presiding Judge cited Defence Counsel Husain for lateness and fined him $10,000. Later in Monday's trial, the lawyer applied to be withdrawn completely from the matter, but Justice George had however rejected the application on similar grounds that Williams would have to retain counsel at a late stage. It was disclosed that the court will adjourn Williams' case and move forward with hearing the testimonies of witnesses called on behalf of co-accused, Roger Simon.
Simon, Dennis Williams and Mark Royden Williams are the three standing accused for the February 17, 2008 massacre at Bartica where 12 persons including three Policemen were slaughtered. Two other accused, Clebert Reece and Michael Caesar pled guilty to manslaughter late last year and were sentenced to 420 and 1080 years respectively. Caesar's sentence carried more years as he admitted involvement in the January 2008 massacre at Lusignan which occurred nine years ago today. Mark Williams is also implicated in that attack.
The men along with others, many of whom were shot and killed by law enforcement ranks, were part of the infamous Rondell "Fineman" Rawlins gang that allegedly carried out attacks at various locations. While the true motives behind the crimes are not clear, 23 persons lost their lives in the Lusignan and Bartica attacks. Additionally, then teenage gang member, Dwane Williams, had testified that the "Fineman" gang was also responsible for the July 2008 attack at Lindo Creek where eight more persons were murdered. Those killed in the Lusigan massacre were; Clarence Thomas, 48; Vanessa Thomas, 12; Ron Thomas, 11; Mohandan Goordat, 32; Seegopaul Harilall, 10; Seegobin Harilall, 4; Dhanwajie Ramsingh, 52; Seecharran Rooplall, 56; Raywattie Ramsingh, 11; Shazam Mohammed, 22; and Shaleem Baksh, 52.
Meanwhile, the Bartica massacre trial continues at the High Court in Georgetown.