The University of Guyana on Wednesday launched its Centre of Excellence for Teaching and Learning at its Turkeyen Campus with the aim of providing an atmosphere for students and lecturers to work together.
Education Minister, Nicolette Henry stated that the University has evolved into a tertiary institution that is more competitive as well as respected. She added that the University plays a pivotal role in being responsible for qualifying the country's human resources.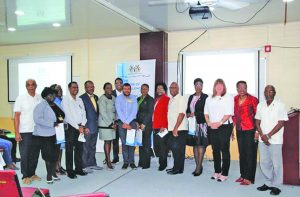 "This University has, over the years, been evolving into a more competitive and respected tertiary institution in the region and is certainly responsible for a lot that is required for this country's human resource development. I believe that this achievement is no small part due to the emphasis that the University places and providing a dynamic highly student centred learning environment" she remarked.
Additionally, the Education Minister noted that there is a greater need for diversification in higher educational levels as the country is becoming a petroleum-based economy.
"On the eve of a petroleum-supported economy, there's an unprecedented demand for a great diversification in higher education as well as increased awareness of its vital importance for sociocultural and economic development."
Vice-Chancellor and Principal of the University of Guyana, Professor Ivelaw Griffith in his remarks positively stated that project renaissance completion is the finished product of building partnerships.
"So many things we have begun to do on project renaissance could not be done just by UG resources, Government of Guyana resources and so we've been building partnerships with academic institutions within and beyond Guyana" Professor Griffith stated.
The launching of the centre together with the inaugural teaching and learning symposium was held under the theme "New era, new strategies to enhance teaching and learning as we journey along the renaissance road".
The Centre will fall under the School of Entrepreneurship and Business Innovation at the University of Guyana's Turkeyen Campus.