University of Guyana student Sheliza Dianne Jaferally was on Monday remanded to prison when she appeared before Chief Magistrate Ann McLennan on a charge of misuse of a telecommunications system.
Jaferally is accused of issuing bomb threats against the tertiary institution. The 25-year-old denied that on Tuesday, February 5, 2019, by means of a public telecommunications system, she caused anxiety to the students and staff of the University of Guyana by transmitting a false message knowing same to be false.
Defense Attorney Latchmie Rahamat in a bail application told the court that her client has completely denied the allegations and intends to "vigorously defend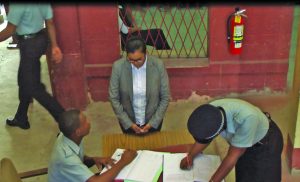 herself."
Rahamat also presented to the court a printed and stamped copy of a list of generated phone numbers that are similar to that of her client's.
However, the police prosecutor opposed bail for the student on the grounds that she may tamper with witnesses as well as evidence that was generated during Police investigations against Jaferally.
The prosecution also opposed bail on the grounds that the matter is a concern of public interest. Further, the court was informed that there are also four outstanding statements into the matter.
Attorney Rahamat, after listening to the police submission, noted that the police have her client's telecommunication devices in custody and, therefore, she would not be able to "tamper with witnesses or evidence" if granted bail.
The defence attorney also informed the court that her client has been cooperating with investigators from the inception and has been incarcerated for more than 72 hours.
However, the Chief Magistrate upheld the prosecution's submissions, noting that the issue is a matter of public interest and remanded Jaferally to prison. The case will continue on February 18 at the Sparendaam Magistrate's Court.
The alleged bomb threat forced the suspension of all classes at the University of Guyana with Police ranks, sniffer dogs, Guyana Fire Service operatives and other security personnel swooping down on the campus.
Reports are, students received messages on their mobile devices just after 13:00h which purported that there were two bombs planted which would soon explode.
The text claimed that the bombs were hidden in haversacks that were strategically placed, which caused some to panic and flee classrooms and buildings with some even leaving belongings behind. After security agents were summoned to the scene, no explosive device was uncovered.
This latest incident follows threats carried out to School of the Nations, Queens College, the Bishops' High and Mae's schools.