Super 4 Massive Easter Football…
–
Eagles taken down 2-1
Tournament MVP Trayon Bobb led Uitvlugt Warriors to the $100,000 first place prize whilst also winning for himself $20,000 when the Super 4 Massive Easter Football Fiesta, featuring West Demerara Football Association (WDFA) top four clubs was played on Sunday night last at the Den Amstel Community Centre ground.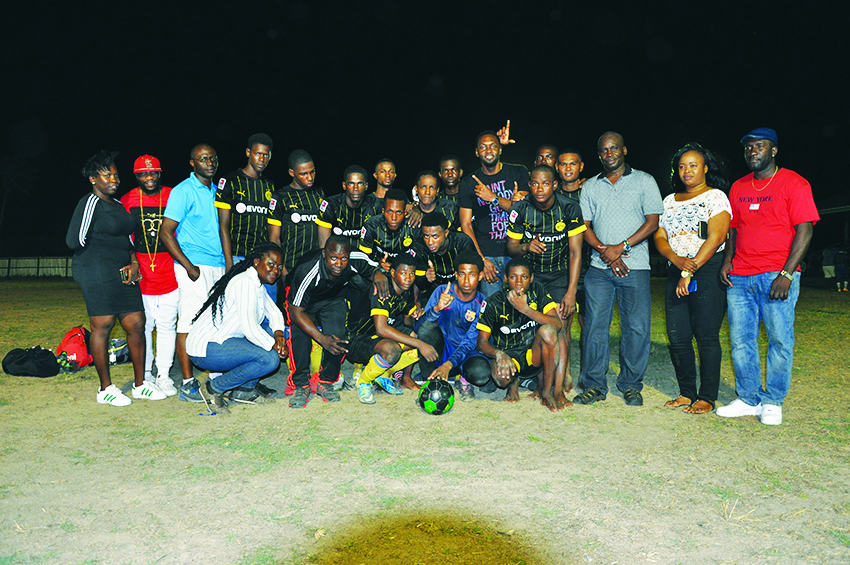 Uitvlugt defeated Eagles FC of Stewartville 2-1 in the final after both had disposed of their respective semifinal opponents on a beautiful Easter Sunday night and witnessed by a colourful crowd.
Eagles, still smarting from their semifinal win over Pouderoyen were harbouring thoughts of another upset win on the night but it was Uitvlugt which drew first blood to dampen the spirits of the energetic Egales.
Daniel Floy scored in the 6th minute to give his side the psychological edge. Eagles never sat back despite trailing and silent the Uitvlugt fans on 33 minutes when they equalized through a Daniel Clark goal; it was game on.
Like he has done on so many occasions including the earlier semifinal, Trayon Bobb had to come to the rescue of his side and did so in fine style when he banged in the winning goal in the 37th minute.
Uitvlugt downed old nemesis Den Amstel FC in their semifinal encounter compliments of the lone strike coming off the boot of Trayon Bobb. On the newly laid Den Amstel field which is tipped to be one of the better surfaces on the West Side, Uitvlugt went into the match with memories of their humiliating loss in the Den Amstel Mash Cup final to the former.
The 20/20 format of the semifinals also made the action more exciting, Uitvlugt it was though that dominated the home team even as they squandered many opportunities but eventually made one count with 8 minutes left on the clock, Bobb making no mistake in netting.
The first semifinal went down to the wire between Eagles FC and Pouderoyen and when the allocated 40 minutes had elapsed, the score was still deadlocked. In the ensuing kicks from the penalty mark, Eagles prevailed 3-2 to earn their place in the final.
It was the Stewartville based club second win over their more seasoned rivals in as many matches following their third place win in the Den Amstel Mash Cup.
In the 60 minute third place match that brought together the semifinal losers, Den Amstel made light work of Pouderoyen coming out 2-0 winners on account of goals from Dwayne St Kitts in the 29th minute and Keswyn Fraser in the 46th minute.
Prior to the final, the teams were met by Director of Sport Christopher Jones, Guyana Police force D-Division Commander Leslie James, Guyana Football Federation Third Vice President with responsibility for the WDFA Ms Thandi McAllister along with Super 4 Massive's Alex Green and Akantunde Rudder aka Rigget.
The presentation will be held tomorrow at the Den Amstel Community Centre from 17:00h.