Former Education Minister Priya Manickchand has described Government's decision to impose the Value Added Tax (VAT) on private education as "senseless and unimaginative".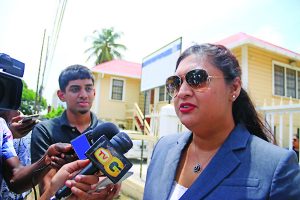 Manickchand told Guyana Times on Monday that the situation begged the question whether the David Granger-led Administration planned to stick with the promises it had made with respect to education.
Under the People's Progressive Party/Civic (PPP/C) Government, the "Because We Care" Education Grant was introduced to the public school system in 2014, while Manickchand was Minister.
The initiative saw parents receiving $10,000 for each public school student annually that aided the schooling of children at the nursery, primary and secondary levels. To be eligible, children had to be registered with a public school.
Manickchand recalled that when the then PPP/C Government had introduced this new initiative, not only did it receive popular support, but the then A Partnership for National Unity (APNU) and Alliance For Change (AFC) Opposition parties had conceded that it was a sensible decision.During that period, both parties, according to her, had suggested to the PPP/C Government that they should also extend the grant to include children attending private educational institutions.
The then Government had expressed its willingness to consider the recommendation, on the basis that APNU and AFC felt that "private school students were poor".
Manickchand told Guyana Times that the Government's new position on VAT on education, therefore, highlighted the grave "vindictiveness" and "flip-flop" approach that were evident each day.
"So, one year before you came into office, you said private school students were poor and are deserving of cash grants, an omission we had made as a government. One year later, you come in, and tax the hell out of them and their parents," she noted.
The former Education Minister said it was "really sad" that parents were now being forced to consider how they would meet the monthly or termly school fees, in addition to surviving the increased taxation implemented by the new Government.
She said, "The average schoolchild (private school) has to pay $25,000 more in school fees. That is 50 lunches they are taking out of that child's lunch kit. To do what? To fund extravagance by the Government? Travelling, travelling with large delegations. I mean, if we can cut back on that, then we can give our children the education that the Government said when they were campaigning."
Manickchand continued, "It is really quite a shame. It is unnecessary. It is almost a punishment to the parents (and children) who want to do better for their children, so that these children can do better for Guyana."
Although the policy has received widespread condemnation, Government remains firm on keeping the 14 per cent VAT that was applied to private education effective February 1, 2017.
Cabinet has taken the decision that the VAT on education will remain for the rest of 2017; however, during its 2018 budget planning, a review of the VAT regime would be done.
The PPP/C has made it clear that if it was reelected to office in 2020, it would reverse this and other policies it deemed unnecessary that were imposed on Guyanese by the coalition Government.